100 Solid Top MLM Companies For 2017
January 13, 2017
By Team Business For Home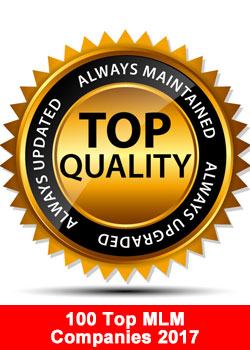 As Business For Home we often get the question: I am looking for a solid legit opportunity to make a living, I live outside the USA, what do you guys advice?
Our company database has over 1,000 Direct Selling companies from all over the world and in our opinion every prospect should do its own 'due diligence therefore the answer is not easy.
There are 1,400 Direct Selling companies in the USA, many open new markets every year and worldwide an est. 10,000 Direct Selling companies are active with $250+ Billion in sales.
It depends also on what products of services you like, what kind of risk you want to take, as there is always a chance a company can go out of business, especially with starters, your motivation, if you need a lot of leadership, or if you are a self starter. Do you want to build local or global? The compensation plan can be a party plan or person-to-person.
You might want to check out the Business For Home Recommended distributors, professionals who have a specific business opportunity.
To help the 1 million people who are visiting this website to look for information for an opportunity we have selected around 100 strong opportunities, around the world, based on our own opinion.
Some are active only in the USA, other are expanding, some are in nearly all international markets, some have health products, others jewelry, or internet driven services.
Consider below list as a first selection, a long list, we encourage YOU to do your own due diligence which is a fancy word for Research and to produce a short list 🙂
| Rank | Company | Country | Website | CEO |
| --- | --- | --- | --- | --- |
| 1 | 4Life | USA | https://www.4life.com | Steve Tew |
| 2 | ACN | USA | https://www.acninc.com | Greg Provenzano |
| 3 | Advocare | USA | https://www.advocare.com | Richard H. Wright |
| 4 | Alliance In Motion | PHILIPPINES | https://www.allianceinmotion.com | Ed Cabantog |
| 5 | Ambit Energy | USA | https://www.ambitenergy.com | Jere Thompson |
| 6 | Amway | USA | https://www.amway.com | Steve Van Andel & Doug DeVos |
| 7 | ARIIX | USA | https://www.ariix.com | Fred Cooper |
| 8 | ASEA | USA | https://www.asea.net | Chuck Funke |
| 9 | bHIP Global | USA | https://www.bhipglobal.com | Terry LaCore |
| 10 | DoTerra | USA | https://www.doterra.com | David Sterling |
| 11 | DubLi Network | USA | https://www.dublinetwork.com | Michael Hansen |
| 12 | DXN Global | USA | https://www.dxn2u.com | Lim Siow Jin |
| 13 | Enagic | USA | https://www.enagic.com | Hironari Oshiro |
| 14 | Essante Organics | USA | https://www.essanteorganics.com | Michael Wenniger |
| 15 | Evolv Health | USA | https://www.evolvhealth.com | Brent Hicks |
| 16 | FM Group | POLAND | https://www.fmworld.com | Artur Trawinski |
| 17 | Forever Living Products | USA | https://www.foreverliving.com | Rex G. Maughan |
| 18 | ForeverGreen | USA | https://www.forevergreen.org | Ron Williams |
| 19 | Fuxion | PERU | https://www.usafuxion.net | Alvaro Zuniga Benavides |
| 20 | Gano Excel | MY | https://www.ganoexcel.com | Leow Soon |
| 21 | Global Wealth Trade | CANADA | https://www.globalwealthtrade.com | Ramin Mesgarlou |
| 22 | GVO | USA | https://www.gogvo.com | Joel Therien |
| 23 | Herbalife | USA | https://www.herbalife.com | Michael O. Johnson |
| 24 | IDlife | USA | https://www.idlife.com | Logan Stout |
| 25 | Immunotec | CANADA | https://www.immunotec.com | Charles L. Orr |
| 26 | Isagenix | USA | https://www.isagenix.com | Jim Coover |
| 27 | It Works! Global | USA | https://www.myitworks.com | Mark Pentecost |
| 28 | Javita | USA | https://www.javita.com | Stan Cherelstein |
| 29 | Jeunesse | USA | https://www.jeunesseglobal.com | Wendy Lewis |
| 30 | Juice Plus+ | USA | https://www.juiceplus.com | Jay Martin |
| 31 | Kannaway | USA | https://www.kannaway.com | Jeff Rogers |
| 32 | Kyani | USA | https://www.kyani.net | Michael Breshears |
| 33 | Le-Vel | USA | https://www.le-vel.com | Paul Gravette |
| 34 | Life Plus | USA | https://www.lifeplus.com | Bob Lemon |
| 35 | LifeVantage | USA | https://www.lifevantage.com | Darren Jensen |
| 36 | LR Health and Beauty | GERMANY | https://www.lrworld.com | Thomas Stoffmehl |
| 37 | Lyoness | AUSTRIA | https://www.lyoness.com | Hubert Freidl |
| 38 | Mannatech | USA | https://www.mannatech.com | Robert A Sinnott |
| 39 | Mary Kay | USA | https://www.marykay.com | David Holl |
| 40 | Mega Holdings | HONG KONG | https://www.megaholdings.org | Michael Cheng |
| 41 | Melaleuca | USA | https://www.melaleuca.com | Frank VanderSloot |
| 42 | Modere | USA | https://www.modere.com | Robert Conlee |
| 43 | Morinda | USA | https://www.morinda.com | Kerry Asay |
| 44 | Nature\'s Sunshine Products | USA | https://www.naturessunshine.com | Gregory L. Probert |
| 45 | Nerium International | USA | https://www.nerium.com | Jeff Olson |
| 46 | Nu Skin | USA | https://www.nuskin.com | Truman Hunt |
| 47 | Nucerity International | USA | https://www.mynucerity.biz | Lonnie McKinney |
| 48 | Nuriche | USA | https://www.nuricheliverevive.com | David Parker |
| 49 | Organo Gold | CANADA | https://www.organogold.com | Bernie Chua |
| 50 | Oriflame | SWEDEN | https://www.oriflame.com | Magnus Bramstrom |
Showing 1 to 50 of 97 entries