Dallin Larsen Launches New Direct Sales Company – Vasayo
January 8, 2017
By Team Business For Home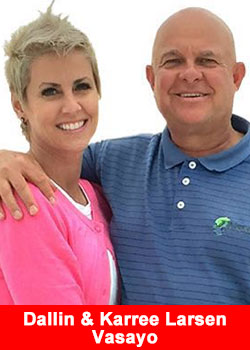 Vasayo, a new direct sales company, announces its soft-launch into the United States and Canada.
"Many will return to work today after the New Year's holiday, to continue working to provide for themselves and their loved ones," said Dallin Larsen.
"We're doing a similar thing, only it is our honor and privilege to open the doors to a brand-new company; one that will provide our Brand Partners (those who sell Vasayo product) and employees alike with a new opportunity in 2017, and for many years to come."
Dallin and wife Karree Larsen are looking to build a legacy company, but this wasn't always the plan. In July 2014, Dallin and Karree retired from MonaVie, a company they founded in 2005 and built to nearly a billion dollars in just a few short years. "Retirement wasn't for us," said Dallin. "But we were only going to return to build a new — and final — company if we could find a truly innovative product and a disruptive story. And we have done that."
Vasayo products feature advanced delivery technology
The problem with standard supplements and other wellness solutions has long been that the nutrients they offer — while extremely beneficial — are poorly absorbed within the body. "Vasayo products feature Advanced Delivery Technology (ADT), where nutrients are wrapped in cell-loving liposomal 'bubbles' for superior absorption and delivery," said Dallin.
For the health-conscious consumer, the benefits are clear. But even for the fiscally minded, the fact that Vasayo is "maximizing results and minimizing waste" — one of the company's core values — is not to be overlooked.
A brand that is Delivering Solutions
With a company tagline of "Delivering Solutions," Vasayo is in business to provide better results through superior delivery — whether it's an innovative delivery system for their products or the extra care invested in a successful customer experience. "The only products you will see come to market under the Vasayo name are ones that deliver results more effectively than alternatives in the marketplace," said Dallin. "We provide products that are not only backed by science and which utilize the latest technology, but also ones that help solve common problems through extraordinary solutions."
MicroLife Nutritionals
Vasayo launches with five nutritional products, under the "MicroLife" brand name, but the potential for its Advanced (liposome) Delivery Technology to expand to additional products within the nutritional category — and to altogether new categories — is already being explored by the company.
· MicroLife Core Essentials – a multivitamin and mineral complex designed to build your nutrition foundation
· MicroLife Neuro – for enhanced brain support, and featuring five powerful key ingredients
· MicroLife Energy – for natural, non-habit forming energy
· MicroLife Sleep – for improved sleep support
· MicroLife Renew – supports a healthy inflammatory response and antioxidant protection
They say timing is everything, and "the timing for Vasayo simply could not be better," said Dallin. The home-based, direct sales industry is more mainstream now than it ever has been. In fact, the number of people involved in direct sales rose 11% in 2015, according to the Direct Selling Association. And with technology and social media continuing to evolve in sophistication and features, sharing from one's home offers flexibility and potential like never before.
Commenting on this phenomenon, Dallin emphasized, "In today's world, advances in technology, automobiles, and countless other areas are commonplace. But you don't hear much about advances in the delivery of key ingredients for wellness products. Vasayo is here to change that."
About Vasayo
Vasayo is a new direct sales company based in Lehi, Utah. The company announced its soft-launch on January 3, 2017, bringing to market five nutritional products under the MicroLife brand name. Each product features the company's proprietary Advanced (liposome) Delivery Technology for superior nutrient absorption. For more information on Vasayo — the company that is Delivering Solutions — visit vasayo.com.