Ivan Tapia – iMarketsLive Achieves Chairman 50 Rank
January 20, 2017
By Team Business For Home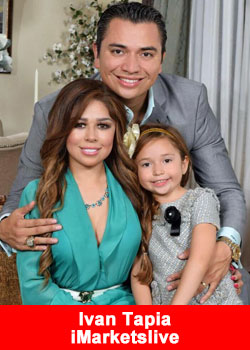 Ivan Tapia is an 8 year veteran in network marketing. He has personally developed independent marketing and sales organizations responsible for generating over $50 million dollars in annual sales and leading a team of 60,000 home-based entrepreneurs spanning over 20 countries.
Joining I Markets Live November 1st 2016, Ivan hit the ranks of Chairman (1st week), Chairman 25 (20 days) and now the Chairman 50 (66 days) faster than any IBO in the history of the company.
To achieve the rank of Chairman 50 an IBO must generate over $400,000 USD sales revenue to the company in a 31 day period.
Tapia attributes his explosive success to these 5 specific things that I Markets Live has:
1) His Purpose and Vision, amazing Products That work
2) The Company Leadership Simple and Lucrative Compensation Plan
3) Superior And Exclusive Products
4) A Turnkey Duplicatable System
5) A Compensation Plan Which Rewards Personal And Team Sales
He is excited to continue to help IML create more amazing stories by helping more people duplicate the success.
Tapia has had not just enjoyed incredible financial success personally. In his 8 year career he has coached over 50 Individual Sales professionals to create incomes which rank in the top 17% of network marketing income earners.
Its very simple to work in IML. We have an amazing CEO Christopher Terry who is always one call away from helping all the team.
Amazing VP of Sales Alex Morton who is always working hands on with current and up and coming leaders to help them create their own success stories.
And the key thing is that they are both very easy to work with, states Tapia.
Why iMarketsLive: "I decided to join iMarketsLive because as a leader I want to be in a position to help the most people achieve their dreams and goals and develop massive long term residual income.
My personal goal is over the next 18 months help 100 of my team to develop $10,000 in monthly income, and grow our sales and marketing organization to over 100,000 customers and sales leaders in the team."
About iMarketslive
International Markets Live providers highly effective tools & services to help traders make the right decisions in the ForEx & Futures markets. Our services are exclusive and can only be accessed through our membership.
Led by a brilliant & experienced executive team, the company is growing exponentially and is currently helping of thousands of traders become successful. For more information please visit www.imarketslive.com