Meet Zija Natural Health Revolution Founder: Dennis Roop Jr.
January 13, 2017
By Nicole Dunkley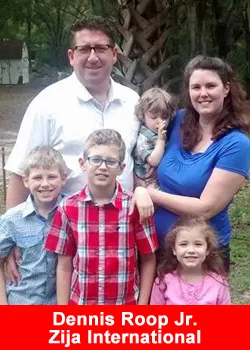 Zija International recently launched the Natural Health Revolution Founder Program at their 10-Year Anniversary Event in September.
The company has been focusing on the importance of embracing the Natural Health Revolution—an encouragement to naturally nourish, naturally improve our performance, and naturally restore the body. To celebrate those who are committed to living and sharing this revolution, the company created the Natural Health Revolution Founder Program.
Those who qualify to be a Natural Health Revolution Founder have put in hard work and dedication in spreading the movement. Qualifiers earn a special Founder pin, certificate, bonus, and other exciting perks that are to be announced in early 2017!
Hear from Dennis Roop Jr., one of Zija's Natural Health Revolution Founders, on why the Natural Health Revolution is so important and how Zija International is helping him live Life Unlimited:
"As a minister, I have a strong spiritual connection to God. On May 7, 2013, I was woken up by a voice telling me that I was unhealthy. At the time I weighed 310 lbs.; I was very overweight and had an abundance of health issues. I didn't know where to turn to or where to start when it came to changing my health. Just two days later, on May 9, 2013, I saw a Facebook post made by Joel McNinch. He mentioned that the company he worked with—Zija International—was blowing up and changing the world! I immediately messaged him and asked what Zija was. In reply, he sent me the Moringa documentary.
In the 90s I was a missionary in Africa for 10 years. The impact of seeing such a lack of nutrition and an abundance of malnourishment with no apparent solution was hard to experience. Suddenly I was learning about Moringa, a plant that can help provide a solution to malnourishment. AfterI immediately decided to begin my Zija journey. Straightaway I began to experience the positive effects of the Zija products and felt great for the first time in years. Now, three years later, I am down 120 lbs. It's been an incredible journey
When I found out about the Natural Health Revolution Founder Program, I knew I could easily sign up five people! In just three days I had my five—I had become the first in the world to become a Founder! What I did was simply listen to the needs of the people I contacted. I shared my story and showed them the power of the products. Don't share Zija out of desperation, share it out of wanting to truly help people with their problems. Find out what someone's needs are and show them how Zija can help them reach their goals.
I see so many people suffering in their physical bodies and I want to show them that Zija has harnessed natural ingredients that God has provided for us. If they simply used the products, they could feel better. The Natural Health Revolution is a way for people to have their own physical revolution. The Natural Health Revolution is significant because I can see the potential of this revolution in each individual I come across.
Living Life Unlimited literally means living a life without limits! That is truly how God intended our lives to be; he doesn't want us to have limits placed upon ourselves. We need to live life moment by moment. We should live it NOW, not in 10 years, not tomorrow, but NOW! I'm so grateful to God Almighty because he is the one who brought me to this company and created Moringa oleifera. I am grateful to Zija's Founder, Kenneth Brailsford, for creating this great company.
I'm thankful to my wife and the patience she has with me. I'm thankful to Joel McNinch and all he has done for me and my family. I'm grateful for Zija's corporate team and especially Vice President of Sales, Jarom Dastrup, and the President and CEO, Ryan Palmer. Lastly, I am grateful to Dr. Joshua Plant for all his hard work and dedication to bringing about the Natural Health Revolution.
Together, we can spread the Natural Health Revolution and live Life Unlimited, and Zija International is the way to achieve that!"
ABOUT ZIJA INTERNATIONAL
Zija International, a privately-held and privately-funded business founded by Kenneth E. Brailsford and led by Ryan Palmer, develops natural health, wellness, and beauty products. The company operates in more than 50 countries worldwide, pioneering the #NaturalHealthRevolution to help individuals achieve Life Unlimited.
Zija has seen consistent growth every year since it was founded over 10 years ago and has received several awards, including and being named the Fastest-Growing Company in Utah by Utah Business Magazine. It has also been recognized on fastest-growing and top-revenue lists by Inc. Magazine, Direct Selling News and Utah Valley Magazine, and has received industry-specific MarComm, American Business (Stevies), Davey Awards, and Communication Awards.
With corporate offices located in Lehi and more than 4 million sq. ft. of state-of-the-art warehouse, shipping and manufacturing facilities located in Utah, United States, Zija International employs more than 200 individuals and has the capacity to grow to more than two billion dollars in annual sales.