Vemma CEO BK Boreyko Launches New Company – Bode Pro
January 7, 2017
By Team Business For Home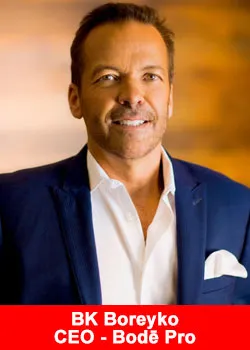 BK Boreyko launches Bode Pro, a new network marketing company with a uni-level compensation plan..
Boreyko's first two start up companies New Vision and Vemma each exceeded $1 billion in career sales and his 3rd venture could be his best work yet.
He will continue to operate Vemma simultaneously with the launch of Bode Pro. A very successful strategy he incorporated with the launch of Vemma while operating New Vision. We are rooting for him.
Boreyko is like the Rocky Balboa of MLM, the US regulators can beat him down, but he keeps getting up and fighting.
After a long fought 16 month battle with the FTC that Vemma finally settled last month, CEO BK Boreyko just recently announced his next venture Bode Pro.
Now he's launching a new venture in the USA and in Canada (not for resale) in March and in Austria, Germany and Switzerland (the rest of Europe will begin under a not for resale campaign, opening dates may vary) late March.
Bode Pro looks to bring some fundamental change to the multi-billion network marketing industry.
The product offering looks solid considering the nice blend of the existing rebranded clinical studied formulas Vemma has successfully offered and has sold hundreds of millions along with a cutting edge nootropic that they're calling Happy. Nootropic supplements promote productivity, focus, alertness and supports cognitive function. This should be a great customer magnet for this new company and customer acquisition is the driver in their new uni-level compensation plan. 
Operating under the most current regulatory conditions, the Bode Pro compensation plan has been designed to thrive while protecting the Influencer's (distributors) businesses.
Watch for other companies to study these innovations and if they're smart, they'll be making some of these protective moves.
About Bode Pro
For more information please visit www.bodepro.com