When Network Marketing Leaders Leave a Company
January 4, 2017
By Team Business For Home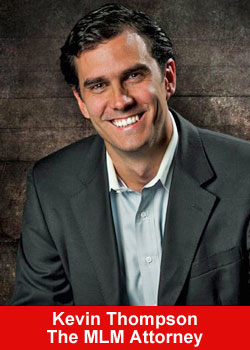 Kevin Thompson is the MLM attorney and has published an awesome article about above issue,
Kevin:
I was recently asked to write an article about the appropriate way for a MLM leader to leave a network marketing company. I hope you find the article below informative.
With the increasing number of MLMs launching each month, it's led to a lot of movement among top leaders. Given this abundance of choices, leaders are enticed with the better reputations of newer companies, top positions or cash…sometimes all three.
These leaders are often times referred to as Master Distributors. The question always arises: what can they do with their existing downline? Clearly, the downline has significant value. With this value, the temptation sometimes leads the leaders to disparage their existing companies, contact everyone in the downline and yell Who's coming with me!? The question then becomes: how can they maximize the value of their downline without violating their agreement with their existing company.
In most cases, the downline represents several years worth of hard work and sacrifice…it's emotionally challenging for a leader to just walk away from it.
However, the company has a legitimate interest to protect its business from raiding. The company will argue (successfully in most cases) that the downline was built through a partnership between the leader and the company. These controversial provisions are incredibly treacherous waters to navigate.
As my father once told me, Son, you make money when you buy the house, not when you sell it. In other words, the beginning of the deal determines the outcome. So my first piece of advice for top distributors: negotiate in the early stages when joining a new company. If you have enough leverage, a company, especially a newer company, will likely waive the problematic terms in the agreement. Consider it like a prenuptial agreement.
In the event there was no negotiation in the early stages, we can assume there exists some very common provisions in the Policies and Procedures. When there's litigation between companies and field leaders in the MLM industry, they most commonly involve a combination of these provisions.
6 month Non-Compete. This provision usually precludes a leader from working with a competing MLM for a six month period after their exit. A competing company is usually one that sells products in the same category i.e. Xango and Vemma, both sellers of juice products, would be considered competing.
About Kevin Thompson:
Kevin Thompson is an MLM attorney, proud husband, father of four and a founding member of Thompson Burton PLLC. Named as one of the top 25 most influential people in direct sales, Kevin Thompson has extensive experience to help entrepreneurs launch their businesses on secure legal footing. Recently featured on Bloomberg TV and several national publications, Thompson is a thought-leader in the industry.