WOR(l)D Global Network Appoints Antonio De Rosa As Chief Design Officer
January 10, 2017
By Team Business For Home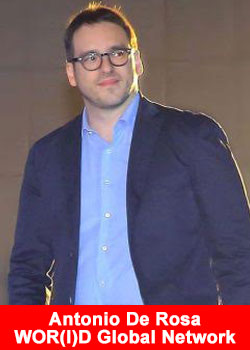 WOR(l)D Global Network – a triple A classified opportunity by Business For Home – is the first network marketing company to appoint a Chief Design Officer role.
In time of economic distress, the network marketing is constantly under the spotlight. The possibility to offer a new level of achievement in business is allowing to this industry to rapidly become one of the best opportunities for those seeking financial and time freedom.
This is also because of the products. Many network marketing products are cutting-edge, well designed, and well produced.
WOR(l)D has always given great attention to its product designs. For this reason, just like many of the giant technology companies, WOR(l)D has decided to appoint a new role in company structure called Chief Design Officer.
The CDO is typically responsible for overseeing all design and innovation aspects of a company's products and services, including product design, graphic design, user experience design, industrial design, and package design. CDO's are also responsible for aspects of advertising, marketing, and engineering, and exploring the possibility to imagine, create, and market new products.
No one at WOR(l)D can capture this role better than Antonio De Rosa. Antonio, already formally in charge of the responsibilities of a CDO and well recognized for his design capabilities, is the perfect person to take these responsibilities.
"This is an important step for the industry," Antonio said. "Giant IT companies invest a lot of money on design, and WOR(l)D is committed to making the same investments. A well-recognized product, innovative materials, and exciting designs and innovations will contribute to removing the stigmas of mistrust and mystery from this industry."
Antonio will continue to keep the responsibilities of marketing and communication inside the company, and he will bring the MLM accent to the world of design, graphic, and industrial.
With the appointment of this role in this industry, WOR(l)D proves courageous and far-sighted regarding the importance of innovation, both in products and in company structure.
About WOR(l)D GN
WOR(l)D also referred to as World GN is a global multi million dollar company that offers services in the telecommunications, renewable energy, technology and mobile Telecommunication. With 15 offices Worldwide, along with their numerous awards won recently, WOR(l)D is recognized as one of the most prestigious opportunities in the industry.
Its current headquarters is in the United States with its major offices in the United States, Singapore, India, China, Russia, Ireland, Dubai, Tunisia, Brazil, Turkey, Thailand, Vietnam, Columbia, Paraguay, and Hong Kong. For more information please visit www.worldgn.com