DubLi Featured On An Award Winning TV Program
February 16, 2017
By Nicole Dunkley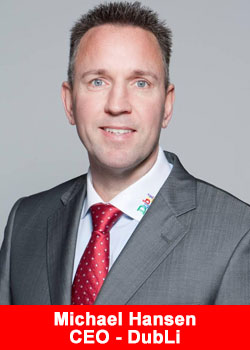 Company CEO, Michael Hansen, explains how the largest global Cash Back shopping site can help online consumers save money quickly and easily
The exclusive interview (sponsored programming) featuring Michael Hansen, Founder and CEO of DubLi, on Worldwide Business with kathy ireland® delves into the benefits of shopping through DubLi.com.
DubLi.com is the most comprehensive global Cash Back online shopping website in the world. The site gives shoppers exclusive access to online retail and travel deals, discounts and, most importantly, Cash Back on online purchases.
CEO Michael Hansen explains, "We always try to offer the best deals and the highest Cash Back. For DubLi, it's about providing a personalized shopping experience for our customers. Plus, the more you shop on our website, the more Cash Back you earn.
JL Haber, Vice President of Programming for Worldwide Business with kathy ireland®, was thrilled to know more about how DubLi works: "With most people choosing to shop online rather than go into brick-and-mortar stores, e-commerce continues to outpace traditional offline shopping. And DubLi is truly taking e-commerce to the next level. Their innovative website, DubLi.com, makes online shopping not only convenient but provides an extra value to consumers as they can earn also Cash Back. When online shoppers visit DubLi.com, there are no specific requirements.
Joining DubLi.com is easy and free, and there are also no spending limits in order to be eligible to earn Cash Back. When you shop through DubLi.com, you earn Cash Back on every purchase. It's that simple. We're excited to feature DubLi on our show and bring this valuable service to our viewers.
DubLi Network offers a business opportunity to earn a lucrative income, whether seeking full-time or part-time work. The e-business offers inspiring entrepreneurs from across the globe the chance to earn a residual income by offering a service that rewards customers for shopping online at their favorite stores. This business model is unique in the network marketing industry with its international reach, offering unlimited growth potential.
For more information about earning Cash Back for shopping online, visit DubLi.com and also watch the Worldwide Business with kathy ireland® interview on the DubLi Network Youtube channel here, now.