Legal Shield CEO Jeff Bell Open Letter To The FTC On Pyramid Schemes
February 3, 2017
By Team Business For Home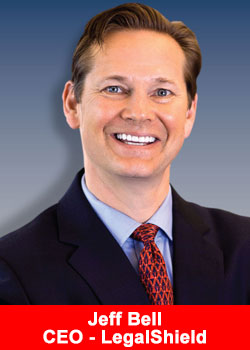 Jeff Bell is CEO of LegalShield, an USA based leading provider of affordable legal plans and identity theft solutions for individuals, families and small businesses, serving more than 4.2 million people across North America.
He has send the next open letter to the FTC:
When Federal Trade Commission Chairwoman Edith Ramirez steps down in a few days, we will remember her speech at the Direct Selling Association's Business and Policy Conference in Washington last October, where she clearly laid out what it means to be operating a pyramid scheme.
Her remarks were important, and they were necessary. Because the Direct Selling Association (DSA) can't seem to enforce the ethical codes and standards it created, the FTC had to step in to clean house. While some companies, such as LegalShield, embrace network marketing as a powerful tool for entrepreneurial success, many direct marketing companies have turned into pyramid schemes. Maybe their leaders believe they can get away with these unconscionable practices.
In the wake of John Oliver's take-down of multilevel marketing last fall, and the possible institutionalization of the FTC's ruling in the Herbalife case, it's time to review Ramirez's criteria for what it means to deploy a pyramid scheme — and to put the transformation of these guidelines into law as a top priority on Ohlhausen's agenda. First, real sales must be made to real customers. To me it's dumbfounding that this must be stated. Legitimate marketing is based on actual people buying an actual service or product.
Ramirez defines "real customers" as "consumers who are not pursuing a business opportunity." This was a clear conclusion from the July 2016 FTC settlement with Herbalife. A pyramid sells product to wholesale distributors and calls it retail sales. That is not permitted. It's simple enough for any company to be compliant here. If you are not paying commissions on retail sales, if your sales are not profitable or verifiable, if you use targets or thresholds that are met only by wholesale product purchases, then it's nearly certain you are running a pyramid scheme.
Every company should be held to these (ridiculously achievable) standards: No required wholesale purchase, no monthly quotas that can be met by personal purchase, no automatic shipments, no tricks. Second, Ramirez stated, "It is time that MLM income representations matched the income reality of the majority of multi-level marketing participants." Every network marketing and direct selling company must present the business opportunity as a way for establishing supplemental income.
At LegalShield, we are proud of our associates who have built and lead large sales organizations that result in high levels of income. But we are equally proud of the tens of thousands who have improved their lives by earning $300, $500 or $1,000 incrementally each month. Third, Chairwoman Ramirez stated that companies should train their distributors on the issue of income claims — and I would add, on how to establish a successful business. Network marketers need a standard set of tools for associates to use — videos, meeting slides, flipbooks and brochures — that are very clear on what should be said and what cannot be said.
There is power in the direct-selling model, which accelerates success with excellent third-party tools, meetings and events. All independent marketing and sales associates should share their experiences, and over time and with proper training, their stories become the message. Not through tricks, or get-rich-quick schemes, but through growth, dedication and earned success.
Fourth, the FTC wants all direct selling companies to monitor and enforce appropriate behavior. Companies must have rules and enforce them. It's that simple. Monitor associates' behavior, enforce ethical codes, conduct training meetings, establish a system for facilitating concerns and complaints.
All of these are critical to deploying a successful and ethical network marketing infrastructure. These practices are not optional. They keep the system working, ethical and profitable.
From Chairwoman Ramirez's speech it's clear she was not content with the status of the MLM industry. There's too much consumer harm, too little product value and too much talk with too little action. I could not agree more!
LegalShield left the Direct Selling Association, and I resigned as a member of its board of directors, because the DSA allows bad companies to masquerade as legitimate network marketing companies, which further soils the industry's reputation. The danger to every direct selling company that champions the best and appropriate practices is that their viability is being undermined by bad actors.
I strongly urge Chairman Ohlhausen to deploy these guidelines into law. At my company, we meet or exceed the FTC's guidelines as we prove why direct selling and network marketing are powerful and positive models for entrepreneurship and free enterprise.
In a time when too few opportunities exist for too many, we believe in our model and know that it can help create happiness and success for entrepreneurs without preying on others or deploying unethical schemes. For us, onward will continue to be upward.