Paul Burks ZeekRewards CEO Sentenced To 14 Years In Prison
February 14, 2017
By Team Business For Home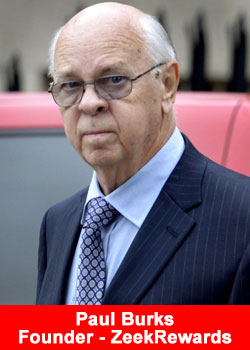 A federal judge Monday handed Paul Burks, founder of ZeekRewards.com, three concurrent prison sentences of 14 years and eight months for his lead role in the Ponzi scheme.
Judge Max Cogburn Jr. agreed with U.S. attorneys' fair and generous sentencing recommendation, a minimum 15 years and eight months and a maximum 19 years and seven months for the 70-year-old Burks. Burks could have been sentenced to up to 59 years under federal sentencing guidelines.
ZeekRewards.com, founded in 2010, was one of the largest Ponzi schemes in U.S. history at $939 million, according to federal regulatory officials and prosecutors.
The Lexington companies, which debuted in January 2011, were shut down and their assets frozen in August 2012. There were more than 800,000 victims worldwide.
Cogburn dropped Burks' sentencing by a year so that it would be about double the 90-month prison term handed to Dawn Wright-Olivares.
Wright-Olivares and her stepson, Daniel Olivares, pleaded guilty in February 2014 to fraud charges after reaching agreements in December 2013 with the U.S. Attorney's Office for the Western District of N.C. Wright-Olivares cooperated with the fedreal government in its case against Burks.
Wright-Olivares served as ZeekRewards' chief operating officer, while Olivares was senior technology officer. Olivares received a two-year prison term.
On July 21, a federal jury found Burks, of Lexington, guilty of wire and mail-fraud conspiracy, wire fraud, mail fraud and tax-fraud conspiracy. Burks has been free on bond for the past 4 ½ years.
The wire and mail-fraud conspiracy charge, the mail-fraud charge and the wire-fraud charge each carry a maximum prison term of 20 years and a $250,000 fine. The tax-fraud conspiracy charge carries a maximum prison term of five years and a $250,000 fine.
Burks opted not to speak on his behalf except to say he approved of the case being presented by his attorney, Noell Tin. The federal sentencing maximum for Burks' felonies would be combined at least 59 years, or 708 months.
U.S. attorneys, citing Burks' health and his role as caregiver to his wife, Susan, who has breast cancer, recommended 15.5 years to just short of 20 years. Tin asked Cogburn to set a sentence of no more than 11.5 years, also in consideration for the Burks' health.
Cogburn and Kenneth Bell, the receiver for ZeekRewards, responded to Tin's request by saying the U.S. attorneys' sentencing recommendation was "fair and generous" given the level of crime involved in the Ponzi scheme.
"This is a huge amount of money, which is why the sentencing guidelines run to such a large extent," Cogburn said. "He is essentially facing a life sentencing given his health conditions."
Tin said that among the health issues affecting Burks are hypertension, diabetes, heart illness, chronic renal failure, prostate cancer, the removal of his esophagus and mild dementia. Burks appeared in good health at the sentencing, though he walked with a slight limp.
In calling for the recess, Cogburn asked U.S. attorneys to determine, with the assistance of federal prison officials, where the appropriate facility would be to house Burks. It would include accommodations for him to sleep in a recliner because of the removal of his esophagus.
Read further here: www.journalnow.com