Primerica Q4 Sales Up 11% To $393 Million
February 9, 2017
By Team Business For Home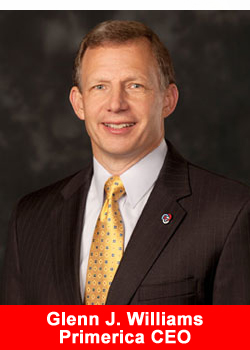 Primerica, Inc. (NYSE: PRI) today announced financial results for the quarter ended December 31, 2016. In the fourth quarter, total revenues increased 11% and operating revenues increased 10% to $393.9 million and $392.4 million, respectively.
Net income grew 19% to $56.9 million and net operating income grew 11% to $55.9 million compared with the fourth quarter of 2015. Earnings growth and share repurchases throughout 2016 drove a 25% increase in EPS and an 18% increase in operating EPS to $1.21 and $1.19, respectively, in the fourth quarter of 2016.
ROE expanded to 18.6% and operating ROAE expanded to 19.2% in the current period versus 16.7% and 18.2%, respectively, in the prior year period.
Glenn Williams, Chief Executive Officer, said,
"During 2016, we continued to execute our strategy to drive growth and improve performance by expanding distribution, deploying mobile technology and repurchasing shares. For the full year 2016 we achieved a 24% increase in EPS and a 240 basis points increase in ROE compared with 2015.
Our sales force leadership played a key role in achieving these results. Our life licensed sales force surpassed 116,000 representatives and their life insurance productivity remained at the top of the historical range throughout the year, driving the 15% year-over-year growth in life insurance policies issued. In addition, our Investment and Savings Products (ISP) client asset values grew to a record $52 billion at the end of 2016. We are optimistic about the growth opportunities ahead and our ability to build on our success by leveraging Primerica's strengths and effectively deploying capital to deliver long-term value for all of our stakeholders."
For the full year 2016, total revenues and operating revenues increased 8% to $1.5 billion. Net income grew 16% to $219.4 million and net operating income grew 13% to $216.8 million versus 2015. Earnings growth and share repurchases throughout the year drove EPS and operating EPS increases of 24% and 22% to $4.59 and $4.53, respectively. ROE expanded to 18.3% and operating ROAE expanded to 19.0% in 2016 versus 15.9% and 16.9%, respectively, in the prior year.
Results reflect strong Term Life performance including a 13% increase in net premiums and Term Life margin expansion. ISP client asset values ended the year at an all-time high while sales declined due to lower variable annuity sales, consistent with industry trends. Insurance and other operating expenses grew 8% year-over-year reflecting higher growth- and employee-related costs as well as additional spend on mobile technology initiatives and preparation for the Department of Labor's (DOL) Fiduciary Rule. During the year, $150 million of shares were repurchased enabling the retirement of approximately 6% of common stock outstanding as of December 31, 2015.
In the fourth quarter, momentum continued in the Term Life business with 14% growth in policies issued and 13% growth in net premiums year-over-year. Term Life results reflect typically lower fourth quarter persistency experience that was also weaker than historical levels in the period.
Investment and Savings Products performance improved due to higher average client asset values and stable product sales levels year-over-year. Results for the ISP segment also include the full-year impact of a change to the annual account-based fee structure implemented in the fourth quarter of 2016. Net investment income was impacted by a negative mark-to-market on the deposit asset backing an IPO-related reinsurance agreement due to increasing interest rates during the fourth quarter.
About Primerica, Inc.
Primerica, Inc., headquartered in Duluth, GA, is a leading distributor of financial products to middle income households in North America. Primerica representatives educate their Main Street clients about how to better prepare for a more secure financial future by assessing their needs and providing appropriate solutions through term life insurance, which we underwrite, and mutual funds, annuities and other financial products, which we distribute primarily on behalf of third parties.
In addition, Primerica provides an entrepreneurial full or part-time business opportunity for individuals seeking to earn income by distributing the company's financial products. We insured approximately 5 million lives and have over 2 million client investment accounts at December 31, 2016. Primerica stock is included in the S&P MidCap 400 and the Russell 2000 stock indices and is traded on The New York Stock Exchange under the symbol "PRI".