QNET's Revamped eStore Aims Global Reach Of Growing Digital Customers
February 14, 2017
By Team Business For Home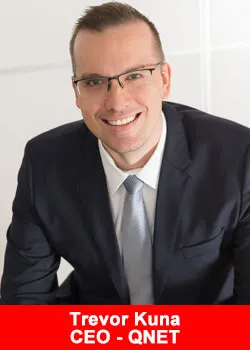 Direct selling company QNET, is set to meet its online audience with a fresh new look, through a revamped eStore platform, aimed at having a greater reach with the rapidly growing digital audience globally. QNET Chief Operating Officer, Malcom Chiu said the fast expanding world of e-commerce, and user experience is a crucial factor in luring and converting casual browsers into buyers.
"The e-commerce sector is expanding rapidly, and so are customers' expectations of eStore functionality and it is really imperative that we transform or migrate our platform to a much more sophisticated and robust solution," explained Chiu.
Realising that the existing legacy platform could not accommodate many of the features that customers were coming to expect for their online shopping experience, QNET has put together a next-generation platform that was recently launched in partnership with web content management provider Sitecore.
Chiu summarises the anticipated benefits of the new platform using "three As" – Attractive, Agile and Analytical. "The platform will allow us to collect valuable information about how customers engage with our sites. We will be able to get intricate insights to help us determine what actions we need to pursue in order to engage with customers more effectively," noted Chiu.
QNET Chief Technology Officer, Ivan Woo said the partner's technology also makes the objective of bringing agility and scalability to a more modern e-commerce platform achievable. The solution partner, being the best in analytics and with its structure and mechanics, will allow QNET to scale up easily.
With the new eStore platform, QNET will also be able to more actively engage with the world of social media. At present, the company makes use of social channels like Facebook and Instagram purely for social purposes and has not been able to convert these engagements into sales, but there are plans to expand promotion to a wider range of digital networks.
"We certainly want to catch up. All the things we talk about: digital transformation, social media engagement, mobile-friendliness, are features that our legacy platform lacked. With our partner's solutions this is something that we can achieve," Woo said.
Development of the platform was completed with the help of Delaware?Digital, one of the most experienced associates and developers of Sitecore technology. QNET's digital transformation isn't solely limited to the new platform. It is a holistic revamp of the way the company presents itself across multiple digital landscapes.
Earlier in the project timeline, Woo supervised a significant data centre merger, which saw a 10-year-old data centre integrate with a modern version at Hong Kong's CyberPort site, and in the process, some of the company's ageing data equipment was replaced. Woo is also currently exploring the best ways to utilise cloud technology within the business.
"The digital transformation programme has multiple facets. We have the main e-commerce website and then we have the mobile site. We also run a commission engine where we distribute commissions to millions of distributors around the world on a weekly basis. There are a lot of elements to this digital transformation that we're embarking on," noted Woo.
Ultimately, Woo and Chiu hope the project will enhance how customers perceive and interact with QNET – but the duo have a larger goal in mind – to become a leader in digital technology within this industry.
About QNET:
QNET, a prominent Asian direct selling company provides a wide range of life enhancing and luxury products that are offered through its proprietary e-commerce platform to customers and distributors in more than 100 countries. The company also has some 60 offices and agencies worldwide, and more than 50 stockists, apart from localised operations or franchisees in a number of countries. In UAE, QNET operates from 3 locations, with offices in Dubai and Abu Dhabi as well as a logistics hub in Mussafah.
Established in Hong Kong in 1998, QNET is a member of the Direct Selling Association of Malaysia, the Direct Selling Association of Singapore, the Direct Selling Association of The Philippines, the Direct Selling Association of Indonesia, the Hong Kong Health Food Association and the Health Supplements Industry Association of Singapore among others. QNET is also a part of the Hong Kong Health Food Association and the Health Supplements Industry Association of Singapore among others. Recently QNET became member of United Nations Global Compact (UNGC) Network- the world's largest corporate sustainability initiative.
QNET is active in sports sponsorships around the world, including football, badminton and more, due to the company's strong belief that the drive, passion and teamwork of sports mirrors that of QNET. QNET signed a new and exciting partnership with Manchester City Football Club (MCFC), as its official direct selling partner for three years. For more information, please visit the QNET website at www.qnet.net