Vida Divina Acquires Latin MLM Giant OvaNutric
February 22, 2017
By Team Business For Home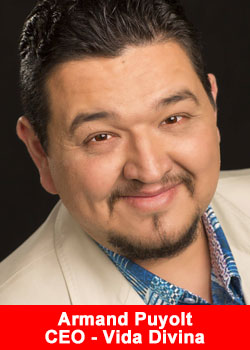 Vida Divina Worldwide, officially acquires Latin MLM giant OvaNutric, based out of Guadalajara – Mexico.
Vida Divina Worldwide is a global direct marketer and Manufacturer of nutritional and lifestyle products, selling products into 30 countries and with impressive distribution centers in 10 countries, using the platform of the direct sales channels to distribute to over million end product users a month world wide.
On the 21st of February 2017, Vida Divina has announced that the Company has finalized an agreement to acquire 100% of the assets and take over all operations of Latin America's MLM giant, OvaNutric Worldwide, based out of Guadalajara, Mexico.
Additionally, Vida Divina has entered into a supply agreement to manufacture and market products of OvaNutric's brand to pending orders and fulfilling contracts to the non-Network Marketing branch of products that spans out into 7 countries within Latin America supplying pharmacies and natural health stores.
Neftaly Pineda, Vida Divina's COO tells us,
"Merging OvaNutrics massive distributing force into Vida Divina may take upwards of 180 days, yet it will be a smooth transition. So we are extremely excited for this Opportunity"
Armand Puyolt, Vida Divina, CEO stated,
We have been working on bringing in multiple companies into our Vida Divina family for quite some time. We became intrigued by OvaNutric due to the years of success that have delivered using coffee and juice products,
The OvaNutric Family will enjoy the instant upgrade juice upgrade from their F24 to our Factor Divina plus they now will have access to more than 20 innovative health products we now have active within our portafolio.
We believe this acquirement is poised to change the way we serve the people into the Latin American marketplace, sharpening our reach to people that need the product line of Vida Divina."
Jorge Oloarte, Sr. Vice President of Vida Divina:
We believe OvaNutric is an ideal strategic acquisition for Vida Divina which fits perfectly into our global plans. Not only will we pick up strong leadership in Latin America, but we intend to immediately leverage OvaNutric's already established teams world wide.
We believe combining these capabilities with our 10 current offices opened last year will accelerate our expansion plans around the world.
Alfonso Diaz Aguilar, Co-President of OvaNutric:
"Years back I helped take Herbalife from $6 million to $611 million in anual sales. It was built on excitement and a solid foundation, similar to what I now see here in Vida Divina as I step down and pass the baton to Mr Armand Puyolt, a man that has done whats right for the Industry.
To me, he is a leader that I am proud to now call our CEO. Our OvaNutric family is in great hands, and once again, I am excited for the industry."
Miguel Mendoza, Co-President of OvaNutric:
We are extremely excited to be able to work with Vida Divina. As I step down as CEO, we believe this acquisition will be a positive and perfect win for everyone in the OvaNutric Family, including myself. We are excited to bring our years of experience in the Latin Market into Vida Divina's growing group of distributors and customers around the world."
Armand Puyolt, concludes,
"I'm proud to say as of today to all the distributors and leadership within the OvaNutric Family: Welcome Home to the Vida Divina ARK. Now let's make a legacy together, Fathers Favor"
About Vida Divina
Vida Divina had one of Network Marketing's most Successful Pre-Launches in history with sales over the $24 million within the first month and over 200k registered reps within the first 45 days. Now as it prepares to Officially launch in September 2017, it is creating a huge wave of followers that the industry has not previously seen before.
The company CEO and Founder is Network Marketing Legend Armand Puyolt, an 8 figure Earner who has been in the Network Marketing Top Earners ranks for over 25 years. Currently ships products to over 30 countries and owns 2 manufacturing facilities with over 260 patents for unique products. Distributing over million products a month worldwide with in first 6 months of launch.
As a debt free company, Vida Divina was created to be "THE ARK": to cary as many people to success as possible, helping people from all walks of life to have an opportunity to change the future of their family and themselves for life. For more information please visit VidaDivina.com