Hyperwallet Unlocks Global Payouts For Monat Global
March 10, 2017
By Team Business For Home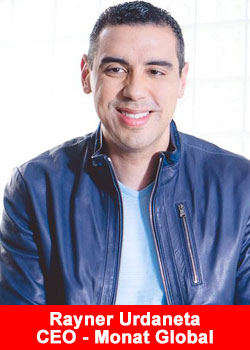 MONAT Global will lean on Hyperwallet's global financial network as it preps for growth domestically and abroad
Hyperwallet, a leading global payouts provider to millions of small businesses and individual freelancers, today announced that it has penned a payouts agreement with MONAT Global, a top health and beauty company specializing in hair care products.
MONAT will utilize Hyperwallet's comprehensive payout platform and global financial network to expand payment options for its independent market partners and support the company's international growth.
"Once we determined that we needed to find a commission partner, Hyperwallet was the obvious choice," said Javier Urdaneta, Director of Operations at MONAT.
"Not only do our market partners have far more control over their earnings; we've also been able to dramatically reduce the administrative burden on our operations teams and unlock new global payout capabilities.
Hyperwallet will be able to keep up with the rapid expansion we've experienced over the past few years and allows us the ability to provide our market partners with the best payment solution possible."
Working with Hyperwallet, MONAT will launch its new MoMoney commission program, a fully-branded payout solution equipped with prepaid cards and a self-serve Pay Portal through which market partners can manage their earnings.
MONAT will also take advantage of Hyperwallet's Loyalty add-on, which enables market partners to earn rewards by completing particular tasks, and Tax Services add-on, which will require market partners to validate their tax information after crossing the IRS-mandated earnings threshold for tax reporting. MONAT's operations are currently focused on the United States and Canada, and the company is exploring expansion opportunities in other markets.
"MONAT has all the signs of a company ready to take off,"
said Brent Warrington, Hyperwallet's CEO.
"They're in a terrific position to grow their business in new geographies—and with Hyperwallet's extensive network, they've eliminated many of the major hurdles to international expansion. We're excited for our ongoing partnership with MONAT and look forward to our part in their future success."
ABOUT MONAT GLOBAL
MONAT Global is an entirely owned subsidiary of Alcora Corp., whose holdings embrace L'EUDINE Global and B&R Products. MONAT was based in 2014 and entered the multi-billion greenback hair care market, whereas offering floor-breaking alternatives by means of a novel Social Marketing strategy to Direct Sales and one of the beneficiant compensation plans within the U.S. market. For more info please visit www.monatglobal.com
About Hyperwallet
Hyperwallet's payout platform provides growing organizations with a frictionless, transparent, and reliable way to manage payments and enhance the payee's experience almost anywhere in the world. Trusted by enterprise, ecommerce, and on-demand platforms, Hyperwallet makes it easy to pay up to 7 billion people in a singular payment environment.
Put your payees in control with enhanced financial management tools, integrated payment tracking technology, and user-friendly compliance and identity verification. Hyperwallet has offices in San Francisco, Austin, London, and Vancouver. You can learn more at www.hyperwallet.com