Isagenix Celebrates 15 Years In Business, $5 Billion In Sales
March 27, 2017
By Nicole Dunkley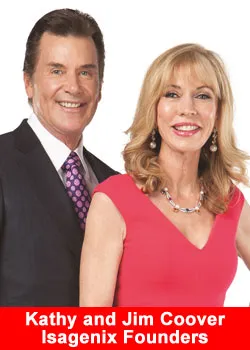 Health and wellness company

Isagenix International,

recently celebrated 15 years in business.
The festivities kicked off at Isagenix world headquarters in Gilbert, Arizona, where town Mayor Jenn Daniels proclaimed March 23 as Isagenix Day. The company moved into a 150,000-square-foot facility in Gilbert a year ago, becoming the town's largest business by revenue.
Last year, sales of Isagenix wellness and skincare products amounted to nearly $1 billion. In its 15-year history, the company has generated $5 billion in cumulative revenue through its network of independent Associates.
"Isagenix is proud to be headquartered in the Town of Gilbert and the State of Arizona," said Jim Coover, Isagenix Owner and CEO. "We appreciate the support we have received from this outstanding community, and we look forward to many more years with our Arizona family."
Beyond the U.S., the company has a presence in 11 markets across the Americas, Asia and Australia. Plans are in place to expand into Europe in the second quarter of 2017, with the launch of Isagenix United Kingdom.
The company currently has more than 1,000 corporate employees, 650 of them at its Arizona headquarters. Based on feedback from employees, Isagenix has been named one of the 2017 Best Places to Work in Direct Selling and will be profiled in the April issue of DSN alongside other honorees.
"Isagenix is not only our business; it is our family," said Kathy Coover, Owner and Executive Vice President. "Our customers mean so much to us, and our employees, Associates, and vendors work together across the world to make this amazing company succeed."
Since 2012, Isagenix also has partnered with Make-A-Wish, the international nonprofit that grants wishes for children with life-threatening medical conditions. The company has raised more than $5.6 million for the cause, helping to grant more than 630 wishes. As early as 2013, Isagenix received Make-A-Wish America's prestigious Cause Champion Award for outstanding contributions.
About Isagenix International
Established in 2002, Isagenix provides systems for weight loss, energy, performance, healthy aging, and wealth creation. With more than 500,000 Members worldwide and more than 100 life-changing products, packs, and systems, the company is committed to producing Solutions to Transform Lives™.
To date, Isagenix has reached $4 billion in cumulative sales through an independent network of Associates in the U.S., Canada, Puerto Rico, Hong Kong, Australia, New Zealand, Taiwan, Mexico, Singapore, Malaysia,Colombia, Vietnam, and Indonesia.
The company's vision is to impact world health and free people from physical and financial pain. Isagenix is a privately owned company with headquarters in Gilbert, Arizona, and is a member of the Direct Selling Association.