Jeunesse CVO Scott Lewis Recognized In DSN "Forces Under 40 In Direct Selling"
March 9, 2017
By Team Business For Home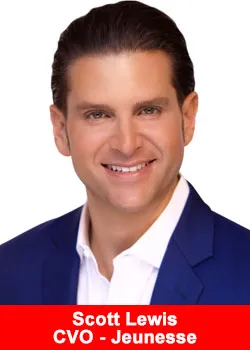 Direct Selling News (DSN) recently recognized Jeunesse Chief Visionary Officer Scott Lewis as an outstanding leader in its inaugural "Forces Under 40 in Direct Selling" program, which showcases talented industry leaders age 40 and under.
As Chief Visionary Officer, Scott oversees the company's strategic initiatives, international operations and marketing, working daily to spearhead the company's global branding efforts and to improve the efficiency of worldwide operations.
Scott not only directs the strategic vision of the company, but he effectively communicates this vision and the company's mission, goals and values to the entire Jeunesse family of Distributors, employees and customers around the world.
Scott has helped lead Jeunesse through extraordinary growth since the company's inception. Jeunesse made direct selling history in 2015 by becoming the youngest company to reach the annual billion-dollar sales mark and is currently ranked in the top 20 direct selling companies worldwide and as the sole direct seller on the Inc. 500.
This honor is the latest for the company's visionary leader. In 2016, Scott was recognized as Maverick of the Year in the prestigious American Business Awards and International Business Awards. In addition, he, along with Jeunesse Co-founders Randy Ray (CEO) and Wendy Lewis (COO), was also named Management Team of the Year in these same competitions.
"Scott's leadership has been integral to our success, driving our ambitious international expansion and building the innovation behind the Jeunesse global brand while keeping a clear focus on the future.
We are proud of the success he's enjoyed and know there are still big things to come in his future," said Randy Ray.
Program nominees, from executives to founders and CEOs, were evaluated on several important aspects such as their leadership qualities, the contributions they have made to their companies, and the impact they have had on the direct selling industry. Direct Selling News announced the honorees in its March print edition and on its website.
About Jeunesse
Jeunesse is a global direct selling company with a mission to positively impact the world by helping people look and feel young, while empowering them to unleash their potential. The company's exclusive skin care and nutritional products form a comprehensive Youth Enhancement System.
With multilingual customer service, back office support and a global enrollment system, Jeunesse utilizes a cutting-edge platform to share innovative products, training and support through 32 fully operational offices to markets in over 130 countries. Learn more at jeunesseglobal.com.