Youngevity Acquires BellaVita
March 30, 2017
By Nicole Dunkley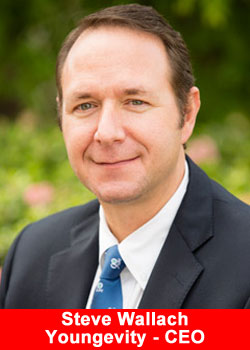 Youngevity International, Inc. (OTCQX: YGYI), a leading omni-direct lifestyle company, today announced it has completed its acquisition of BellaVita, a producer of natural products based on the Mediterranean diet and lifestyle, including whole food beverages, essential oils and anti-aging skin care products.
BellaVita products will be available through gobellavita.com and, effective June 1, through youngevity.com.
Mike Brosnan, the CEO and President of BellaVita, is joining Youngevity as VP of Sales & Marketing, Asia. All of the BellaVita offices in Asia remain open and are now incorporated into Youngevity operations. A number of BellaVita U.S.-based employees will join the Youngevity Utah office and continue to service the Asian market.
"The BellaVita acquisition represents a true extension of our mission of betterment, our commitment to quality and our shared passion in optimal health,"
stated Steve Wallach, CEO and Co-Founder of Youngevity.
"Furthermore, the Mediterranean diet and lifestyle ingredient basis of the product lines continues to grow in popularity across Asia and are only beginning to be fully recognized in the U.S. market –which we expect will make this acquisition a key driver of our overall global expansion strategy."
"BellaVita understands the nuance, culture and technology of the Asian market," continues Dave Briskie, President and CFO of Youngevity.
"BellaVita, whose culture mirrors Youngevity, offers us a strong synergistic partner in Asia — with its tight-knit community of Distributors, its established customers and its loyal employees who deliver on the brand promise.
This acquisition should provide a strong foothold in Asia through established offices including the countries of Taiwan, Indonesia, Malaysia, Hong Kong, and Japan."
"BellaVita's focus on Mediterranean health and Mediterranean whole food inspired products fit perfectly into the Youngevity culture and contribute to Youngevity's core offerings," stated Mike Brosnan.
"We have worked with Steve and Michelle Wallach, Dave Briskie, and the Youngevity Management team – and have been so impressed with the shared commitment to providing the highest quality products and experiences possible.
I believe the combination of Bellavita and Youngevity provides a perfect fit for business growth in Asia. Youngevity's established offices in Singapore and the Philippines combined with Bellavitas market presence provides us with sales centers in 7 countries in Asia. We look forward to a promising future together with Youngevity."
Youngevity was founded upon the pioneering principles of Dr. Joel Wallach; always looking forward to the betterment of society. Today Youngevity continues to meet this mission with groundbreaking products, innovative services and a fulfilling business opportunity individually defined through flexibility and personal lifestyle choices. And in this Pursuit of Betterment, the Company continues to build and grow its Youngevity Be the Change Foundation. 100% of the profits from Youngevity Be the Change Coffee, and other special products highlighted on the Foundation website finance Foundation operations.
About Youngevity International, Inc.
Youngevity International, Inc. (OTCQX: YGYI), is a leading omni-direct lifestyle company – offering a hybrid of the direct selling business model, that also offers e-commerce and the power of social selling. Assembling a virtual Main Street of products and services under one corporate entity, Youngevity offers products from the six top selling retail categories: health/nutrition, home/family, food/beverage (including coffee), spa/beauty, apparel/jewelry, as well as innovative services.
The Company was formed in the course of the summer 2011 merger of Youngevity Essential Life Sciences with Javalution® Coffee Company (now part of the company's food and beverage division). The resulting company became Youngevity International, Inc. in July 2013. For investor information, please visit YGYI.com. Be sure to like us on Facebook and follow us on Twitter.