Adult Toys MLM – Pure Romance 2016 Sales Up 24% To $203 Million
April 26, 2017
By Team Business For Home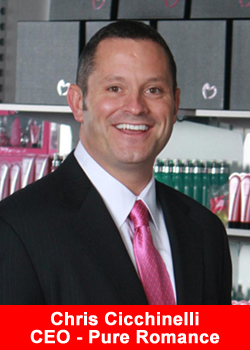 Founder & Chairwoman Patty Brisben in 1983, inspired by a feature on The Phil Donahue Show, Patty Brisben joined a direct sales company and began holding in-home parties focusing on intimacy products. Every year she ranked among the top five Consultants in the company for sales and sponsorship, and 10 years later, she launched Pure Romance from the basement of her suburban Cincinnati home.
In the beginning, Patty did everything. She packed orders, shipped products, planned parties, and signed up new Consultants all while raising her four children on her own.
Over the next two decades, her hard work paid off as Pure Romance grew into what she had always dreamed it would be: A place where women could take control of their financial futures while raising their families.
In 2000, Patty's son, Chris Cicchinelli joined Pure Romance as CEO helping his mother grow the company from $3 million in annual revenue to more than $130 million in 2014.
In 2006, she launched the Patty Brisben Foundation for Women's Sexual Health. To date, the foundation has raised more than $3 million to support research projects and educational initiatives to ensure women have the information they need to live healthy, fulfilled lives. The foundation partners with universities and research organizations to study sexual dysfunction and disorders and offers educational initiatives about sexual health issues.
Patty believes the best way to help others is by educating them. In 2008, she put this belief into practice by writing her first book, Pure Romance Between the Sheets, with vital sexual health information, relationship advice, and the most commonly asked questions from her days as a Consultant.
Like most mothers, Patty is fuelled by her family. Her four children are the reason she started this company and worked so hard to make it a success. Today, Pure Romance continues to be a family business, as all of her children are involved with the company.
About Pure Romance
Pure Romance is the world's leading and fastest-growing woman-to-woman direct seller of relationship-enhancement products.
Pure Romance markets its premier line of products, ranging from bedroom accessories to beauty products through a network of more than 25,000 specially-trained sales Consultants at in-home parties throughout the world.
Since 2001 the company has grown from $3 million a year in sales to $150 million in 2015. In 2010, the company began its international expansion, launching operations in Puerto Rico,
Australia, New Zealand, Canada, and South Africa. The private equity firm Craig Capital Corp. made a growth capital investment in the company in 2012. Craig Capital has a long history of championing companies' growth and is committed to championing women's health issues. The
capital investment partnership paved the way for Pure Romance's acquisition of smaller competitors and the move of its corporate headquarters to downtown Cincinnati in 2014. Pure Romance focuses on several sexual health education ventures.
Founder Patty Brisben, launched the Patty Brisben Foundation for Women's Sexual Health in 2006, and the non-profit organization has raised $3 million to support women's sexual health education, research and community program. For more information please visit www.pureromance.com