Primerica Announces New Lifetime Investment Platform
April 17, 2017
By Nicole Dunkley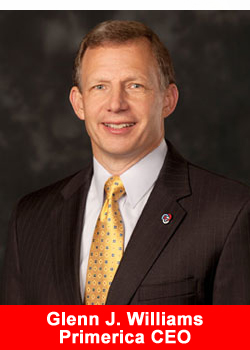 Primerica, Inc. recently announced the Primerica Advisors Lifetime Investment Platform, a major investment service enhancement that provides clients access to fee-based asset management services that are focused on helping Main Street clients achieve their goals and objectives throughout their investing lifecycle.
CEO Glenn Williams notes that Primerica continues to successfully execute against an organic growth strategy of growing distribution and selectively adding products to meet the evolving needs of Main Street families, and that the timing is right for this major platform introduction.
"Given the strong distribution and sales momentum we've achieved in the early months of 2017, we believe this is the ideal time to expand our Investment and Savings Products with the launch of our new platform," said Williams.
Approximately 3,200 of Primerica's 18,000 U.S. mutual fund licensed representatives are also investment advisor representatives and will be able to offer the new products. "It provides new ways for Primerica representatives to serve their clients by offering investment portfolios specifically constructed to solve the accumulation, protection, and income needs of each client," said Bill Kelly, President of PFS Investments.
The platform has both strategic and tactical portfolios constructed with exchange traded funds, mutual funds, and other investment products built by some of the leading money managers in the industry, including Horizon Investments, Invesco, Lockwood Advisors, Meeder Investment Management, Morningstar Investment Management LLC, and Sage Advisory.
About Primerica, Inc.
Primerica, Inc., headquartered in Duluth, GA, is a leading distributor of financial products to middle income households in North America. Primerica representatives educate their Main Street clients about how to better prepare for a more secure financial future by assessing their needs and providing appropriate solutions through term life insurance, which we underwrite, and mutual funds, annuities and other financial products, which we distribute primarily on behalf of third parties. In addition, Primerica provides an entrepreneurial full or part-time business opportunity for individuals seeking to earn income by distributing the company's financial products. Primerica insured more than 4 million lives and had over 2 million client investment accounts at December 31, 2014. Primerica stock is included in the S&P MidCap 400 and the Russell 2000 stock indices and is traded on The New York Stock Exchange under the symbol "PRI".