Rodan + Fields Reaches $1 Billion Milestone
April 17, 2017
By Nicole Dunkley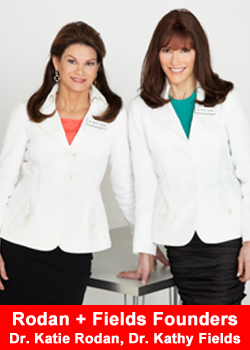 Rodan + Fields, the San-Francisco-based skincare company that launched in 2008, needed only nine years to reach two major milestones: No. 1 skincare brand in the United States and $1 billion in annual revenue.
The prestige dermatology-inspired skincare brand was ranked the No. 1 skincare brand in the U.S. for 2016 as tracked by Euromonitor International Ltd., which publishes the world's most comprehensive market research on the skincare industry.
"We are extremely proud to be the No. 1 skincare brand in the U.S.," says Diane Dietz, President and Chief Executive Officer. "We believe our clinically tested skincare regimens, high-touch, high-tech approach and Independent Consultant community is transforming the skincare category and how people shop. We hope to continue our explosive growth by providing innovative products and life-changing skincare results to consumers around the world."
Rodan + Fields had ranked No. 6 in the 2015 rankings. According to Euromonitor, the company is the No. 1 fastest-growing skincare brand in the U.S. over the past six years. That status is attributable to the brand's focus on product innovation and technology platform investments aimed at meeting customer expectations and supporting a rapidly expanding business in today's ever-changing digital world.
In addition to the brand ranking, Rodan + Fields accomplished another major milestone by achieving more than $1 billion in revenue in 2016. Last year, the company had $624 million in revenue, placing it in the No. 33 spot on the DSN Global 100 ranking of direct selling companies.
"2016 was another year of impressive growth for the Company. We surpassed our goal of becoming a billion-dollar brand and saw year-over-year growth of more than 80 percent," said Chris Newman, Chief Financial Officer. "We are confident that 2017 will be a year of continued opportunity and progress for our Company, Consultants and consumers, with ongoing product and business innovation as well as international expansion to Australia this Spring."
About Rodan + Fields
Rodan + Fields® Dermatologists is changing skin and changing lives by partnering with 130,000 Consultants across the United States to redefine the future of aging. Founded by world-renowned dermatologists Dr. Katie Rodan and Dr. Kathy Fields, the creators of Proactiv® Solution, Rodan + Fields' patent-pending MACRO Exfoliator™ and AMP MD™ System make real results possible at home without injections or other invasive procedures.
Named the 2010 Rising Star by the Direct Selling Association (DSA) for its dedication to achieving a high standard of excellence in business operations, and awarded numerous awards for business campaigns and products, Rodan + Fields is the anti-aging company to watch.