Surge365 Announces Global Expansion
April 25, 2017
By Team Business For Home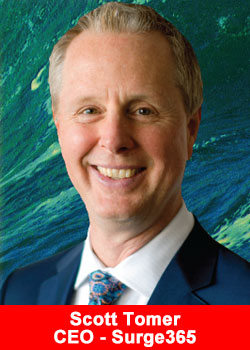 Surge365, a US-based network marketing company, launched Surge365 Global, headquartered in Europe, giving the company a unique opportunity to open additional markets.
As expected, the April launch was a huge success. In Bucharest, Romania over 1,000 people recognized and were determined to take advantage of the Surge365 business opportunity.
Scott Tomer, Surge365 founder and CEO said, "Surge365 is recognizing a unique opportunity to open additional markets. Key countries marked for expansion are the United Kingdom, Italy, and Hungary."
Surge365 was founded in March, 2015, doing business in the United States, Canada, Bahamas, Bermuda, Jamaica, and Trinidad and Tobago. At present, in the United States and Central and Eastern Europe (and moving quickly further afield), Surge365 is regarded as a great business opportunity in the referral marketing industry.
Just two years later, in the spring of 2017, Surge365 Founders Scott Tomer, Coach Lloyd Tomer, and Chris Cokley, together with Oana and Razvan Petcu, knew the moment had come to expand globally – offering a unique opportunity that would have an extraordinary impact on the network marketing industry!
"The key to success is helping your partners achieve success," said Tomer.
With over 100 years of combined marketing experience, Scott, Coach, Chris, Oana, and Razvan know how to build a massive, dynamic, profitable business.
Lack of time, lack of money, or both are what keep most people from fully enjoying life. Surge365 Global resolves those issues by offering an exclusive membership that allows its members to travel at rock bottom prices and offers a 150% price match guarantee on all online bookings while making money at the same time.
The opportunity of this moment, combined with the power of the tourism industry and integrated with an outstanding Compensation Plan that has 11 forms of financial reward (binary speed, unilevel stability and many other extraordinary benefits) can take you directly to the top!
"We are witnessing the future of travel. With the use of cutting edge technology, we create the digital experiences that travelers will find indispensable, while at the same time making a great impact on the travel and network marketing industries," said Tomer.
About Surge365
Scott Tomer, Surge365 CEO
Scott has over 30 years of direct sales experience, as both a top income earning distributor and as co-founder and CEO of a major, publicly traded travel company. His expertise in marketing compensation plans and leadership training is legendary in the network marketing industry.
Lloyd Tomer, Surge365 CVO
Chief Visionary Officer Lloyd Tomer is a former pastor, paratrooper, and network marketing legend. Coach is one of the top recruiters in direct sales history. His down-to-earth style and over 40 years of experience have made him one of the most sought after mentors in the industry.
Chris Cokley, Surge365 President
Chris has over 30 years of direct sales experience and has held positions from Vice President of Marketing to Executive Sales Director to CEO, with some of the leading companies in the home-based business arena. Chris has long been one of the most in-demand trainers in the industry.
Oana and Razvan Petcu, Surge365 Global Master Representatives
Oana and Razvan have over 20 years experience in traditional business and 8 years experience in network marketing, which has contributed to amazing results. In just a short time in their previous home-based business, they broke all records by being the first leaders in Eastern Europe to develop an organization of over 10,000 members in 42 countries.