Top 200 Worldwide Earners In MLM – April 2017
April 3, 2017
By Team Business For Home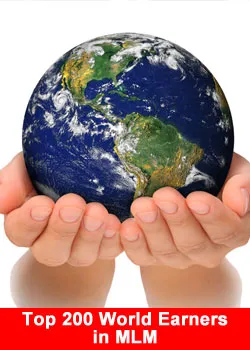 The estimated earnings are based on Internet research, earnings claims from conventions, downline, upline, crossline information, direct selling magazines and through our reporters.
Numerous top earners and companies share earnings with us. Our objective is to show people, you can make an honest living with MLM, Direct Selling working with all kind of Direct Selling Companies.
These leaders had an incredible vision, empower people, and change their life through this business. They build Million-Dollar Distributorships through Million Dollar Relationships.
The estimated (gross) earnings are per month.
Adjustments, or did we miss you and do you make more then $ 5,000 per month?
Results are not typical, individual results will vary big time
A point in below list is a comma so $300.000 = $300,000 per month estimated.
| Rank | Rank | Name | Est. per Month | Company |
| --- | --- | --- | --- | --- |
| 1 | 1 | Juha Parhiala | $4.800.000 | OneCoin - OneLife |
| 2 | 2 | Steinkeller Brothers | $2.550.000 | OneCoin - OneLife |
| 3 | 3 | Igor and Andreea Alberts | $1.300.000 | OneCoin - OneLife |
| 4 | 4 | Dexter and Birdie Yager | $1.300.000 | Amway |
| 5 | 5 | Mihail Petrovic | $1.000.000 | OneCoin - OneLife |
| 6 | 6 | Muhammad Zafar | $900.000 | OneCoin - OneLife |
| 7 | 7 | Anton Federspiel | $825.000 | OneCoin - OneLife |
| 8 | 8 | Jose Gordo | $720.000 | OneCoin - OneLife |
| 9 | 9 | Brian McClure | $700.000 | Ambit Energy |
| 10 | 10 | Chanida and Nat Puranaputra | $650.000 | World Global Network |
| 11 | 11 | Chad and Nattida Chong | $555.000 | World Global Network |
| 12 | 12 | Kim Hui | $550.000 | Jeunesse |
| 13 | 13 | Barry Chi and Holly Chen | $500.000 | Amway |
| 14 | 14 | Jeff Roberti | $450.000 | Juice Plus+ |
| 15 | 15 | Enrique and Graciela Varela | $395.000 | Herbalife |
| 16 | 16 | Jeff and Maureen Miller | $380.000 | Melaleuca |
| 17 | 17 | Steve Thompson | $370.000 | Ambit Energy |
| 18 | 18 | Angela Liew and Ryan Ho | $350.000 | Nu Skin |
| 19 | 19 | Foo Howe Kean & Jenny Ko | $350.000 | Amway |
| 20 | 20 | Sunny Hsu & Debra Hsieh | $350.000 | Amway |
| 21 | 21 | A. Benitez and Raquel Cortez | $325.000 | Herbalife |
| 22 | 22 | Nancy Dornan | $325.000 | Amway |
| 23 | 23 | Mario Oreggia | $325.000 | Lyoness |
| 24 | 24 | Philip Eckart | $324.000 | Ambit Energy |
| 25 | 25 | Lyndon Biernoff | $310.000 | Jeunesse |
| 26 | 26 | Ralf Paulick | $310.000 | OneCoin - OneLife |
| 27 | 27 | Uwe Hentschel | $305.000 | OneCoin - OneLife |
| 28 | 28 | Rodrigo Kagaochi | $300.000 | Pay Diamond |
| 29 | 29 | Felipe Campos | $300.000 | Pay Diamond |
| 30 | 30 | Carol and Alan Lorrenz | $300.000 | Herbalife |
| 31 | 31 | Kaoru Nakajima | $300.000 | Amway |
| 32 | 32 | Ed Bestoso | $300.000 | Melaleuca |
| 33 | 33 | Sergii Shevchenko | $300.000 | World Global Network |
| 34 | 34 | Betty Sung | $295.000 | Nu Skin |
| 35 | 35 | J. Submongkonkul & I. Prajogo | $295.000 | Jeunesse |
| 36 | 36 | T. Wongsa and A. Chantarangsi | $295.000 | Jeunesse |
| 37 | 37 | Rafael Rojas | $280.000 | Melaleuca |
| 38 | 38 | Herb and Patty Capeda | $280.000 | Isagenix |
| 39 | 39 | Bing Voorham | $276.000 | OneCoin - OneLife |
| 40 | 40 | Leonard & Irina Weisbein | $275.000 | Herbalife |
| 41 | 41 | Calvin and Shannon Becerra | $265.000 | Jeunesse |
| 42 | 42 | Patrick Maser & Mike Maser | $260.000 | ACN |
| 43 | 43 | Mark and Tammy Smith | $258.000 | Nerium Int. |
| 44 | 44 | Art Napolitano | $250.000 | ACN |
| 45 | 45 | Simon Abboud | $250.000 | ACN |
| 46 | 46 | Kang Hyeon Sook & Ryu InIk | $250.000 | Amway |
| 47 | 47 | Mongi Errahal | $250.000 | World Global Network |
| 48 | 48 | Ray Robbins | $250.000 | Mannatech |
| 49 | 49 | Sergii Afanasiev | $250.000 | World Global Network |
| 50 | 50 | Andy and Natalie Goddard | $250.000 | DoTerra |
Showing 1 to 50 of 200 entries