VABO-N Appoints Tomasz Stanislawski As Chief Sales Officer
April 12, 2017
By Team Business For Home
Tomasz Stanislawski joins the board of VABO-N, a raising Austrian Nutrition MLM company as Chief Sales Officer.
Tomasz Stanislawski enriches the Austrian company VABO-N with 23 years of experience in networking marketing. His professional career includes working for several leading companies, such as Herbalife, Vision International and Partylite.
Then he held a COO position at Vemma Europe overseeing business in more than 29 markets across Europe and most recently served as the President Europe at ForeverGreen.
His extensive professional experience includes developing and strengthening operations, sales, marketing, corporate social media and international expansion. Along with his experience in direct selling, Tomasz earned a master's degree in trade from Warsaw School of Economics and speaks three languages: English, Russian and Polish.
VABO-N's new chief sales officer Tomasz Stanislawski stated
"I am excited about joining VABO-N and take on the CSO role in this young and dynamic organization.
What distinguishes the company from many other organizations is mainly that Martin and Nina Dvoracek, the founders & CEO's, used to have experience as classic business owners in multiple fields on the one hand and on the other hand they bring the network marketing experience of building a MLM organization with thousands of affiliates.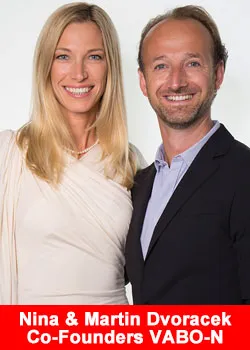 This power couple perfectly understands, what is required to develop a strong international network of leaders.
Outstanding, scientifically developed and certified products, a brilliant compensation plan, a top multi-lingual backoffice, business app, sales support, trainings & coaching, customer service, and perfect logistics, all combined with an understanding of the rules of the game on the European market.
Our strategy is to first concentrate on German-speaking markets and then rapidly expand to the most important European and Asian markets.
We see the incredible growth potential and make VABO-N one of the fastest growing companies in the MLM industry. I know VABO-N is the once in a lifetime opportunity!
CEO Martin Dvoracek stated:
"As a real MLM-mastermind, Tomasz fits perfectly to the growth plans of VABO-N! Our long-term planning envisages is a massive growth in new markets for 2017 and the following years.
With Tomasz, we can offer our existing and future partners a first-class support in the development of sales organizations. Our potential is huge and we are only at the beginning.
Tomasz's decades of industry experience and his know-how will trigger another turboboost at VABO-N.
Co-Founder Nina Dvoracek:
We got to know Tomasz years ago when we were still sales partners. His commitment and dedication are unmatched.
About VABO-N
VABO-N stands for Valuable Body Nutrition and is a network marketing company founded in Austria by Martin and Nina Dvoracek. In 2016 the company started with VABO-N ESSENTIALS, consisting of the following power ingredients: mangosteen, organic aloe vera, organic acerola, resveratrol, 12 vitamins and minerals.
A couple of month later FIERCE had been introduced by VABO-N, a light carbonated drink in a 250ml can, which offers all the benefits and ingredients of VABO-N ESSENTIALS and added choline, guarana caffeine, taurine and inositol for an extra plus off energy.
The company is currently shipping their innovative all-in-one body nutrition products to Germany, Austria and Switzerland, as well as Spain, Hungary, Luxembourg and the Netherlands. For more information please visit www.Vabo-N.com