Valentus Sales Up From $3 Million In 2015 To $32 Million In 2016
April 7, 2017
By Team Business For Home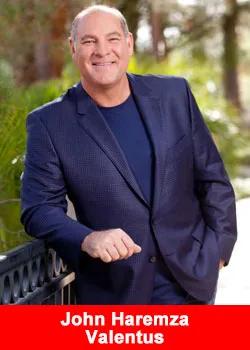 John Haremza, Blue Diamond with Valentus, and author of "Right or Almost Right", called to give me a quick update on the 2nd annual Valentus conference in Toronto March 31, April 1, which was attended by 1,200 people.
Valentus is on fire and breaking records. The company was started July 14, 2014 and did $300,000 that year.
Sales $3,000,000 in 2015 and $32,000,000 in 2016. Based on the first 3 months of this year, it is on track to more than double that number to $60+ Million.
The company recognized 9 new first time $100,000 earners. They recognized Ted Wilson, Blue Diamond as the first $1,000,000 earner plus his invaluable contribution to the growth of the company. Don and Nancy Carson, Blue Diamonds were recognized as Independent Representative's of the year.
John did mention how excited he is to be working together again with Korey and Renae Johnson. They entered the industry together 28 years ago. Two young guys John 24 and a welder, Korey 21 and an electrician. At that time they had no idea what was possible and now Korey and Renae are assured to be the company's second million dollar earner.
New International markets were announced with the opening of the Philippines in April. John Haremza will be attending all the events along with Triple Diamond, Wrapshell Alderson April 22 in Cebu and April 30 in Manilla. We expect over 1,000 people.
John has had a long term relationship with Dave Jordan, Valentus Founder and CEO.
As John says, "Dave brings that elusive 6th element to Valentus and to our industry. Dave is dedicated to making our industry great again and he has an unusual advantage …. he has spent many years in the field as a distributor.
His vision for Valentus is huge but Dave is determined to go way beyond that, he wants to revolutionize our incredible industry. His experience is important for the field because he knows the challenges we all face as Independent Representatives. Dave is very definitely not your ordinary CEO. He has created a whole new network marketing DNA".
As John says, "After almost 30 years in our amazing business I believe that the elusive 6th element, the vibe, the culture, the energy, the environment of success is the most important element in any company. Sum all of this up in one word? That word would be, "HEART". This is the first time I've seen this 'HEART' so strong".
As I say in
"Right or Almost Right this business is all about how you treat your distributors. People want to be valued. They want to be heard. They want to know that the company values them and cares about them.
Valentus / Dave and Joyce have this down in aces.
I talk about the five critical elements, the company, the product, the compensation, the timing and the training. If two of these elements are missing you're going to struggle. It does not matter how talented you are or how hard you work these missing elements will drag you down. Valentus has all five elements in place. This is where the magic happens and fortunes are made. Plus that undefinable and elusive 6th element.
As John says, "After almost 30 years and well over 50 conferences this was the most outstanding ever. The culture, the environment, the vibe, the energy was beyond anything I have ever seen. People may not remember everything that was said but they will never forget how it made them feel. Everyone left this conference feeling that 6th element.
Valentus announced 3 new products including a new Italian Dark Roast weight loss coffee, a new Cleanse and Prevail Max, an amazing oral spray product that activates your red blood cells within seconds. Several doctors including Dr. Mueller and Dr. Ho assisted with the introduction of these products. The company now has seven products.
A new state of the art app plus a new website was announced. All of this in addition to their new 12,000 square foot, totally paid for, Corporate Headquarters in Sioux Fall SD.
In an unusual move Valentus had two renowned lawyers, the best in the business, as presenters. Their message was very, very clear, "Lets protect the golden goose". Kevin Thompson, the industry's top attorney and foremost expert in MLM and compliance gave an incredible 30 minute talk. His focus was on Valentus and about Dave's focus on doing it right and protecting the golden goose.
Another meaningful announcement was the ValentusCARES, a children's support group.
As an example of Dave's focus on fair a 90 day recruiting contest was announced, in which everyone, no matter their rank, is equal. Everyone starts at ground zero with a fabulous cruise as the reward for those who qualify. Valentus has reserved the Palm Beach Gardens for our next event. The quality of this site? It recently hosted the PGA Honda Classic.
We are about to see the Valentus success story plastered across North America as our new magazine PROSPER is displayed in over 1200 Barnes and Noble, Walmart and Target stores. This new 48 page magazine will be a very effective recruiting tool in the hands of our IR's with product descriptions, reward trips, events and the life stories of our leaders.
The conference closed with a draw and the winner of a gorgeous all Black Cadillac, won by a very determined IR from Vancouver and 1200 excited and exhausted IR's filed out.
About Valentus
In Latin, the word "Valentus" means "prevail," defined as proving to be superior in strength, power, and influence. Recognizing that, we couldn't have picked a more fitting name for a company that strives to be the example in an industry that deserves a leader to follow.
Since day one, our focus, our passion, and our commitment have been to create a company, a product line, and an opportunity built on a foundation of integrity. From creating significant levels of income, to building strong networks, healthy long-lasting relationships, making new friends, participating in activities you never even knew existed, having the time to do the things you love with the people you love to be with, VALENTUS can help you PREVAIL in ALL of your goals! For more information please visit www.valentus.com