Youngevity – CLR Roasters Becomes Official Cafecito Of Miami Marlins
April 12, 2017
By Team Business For Home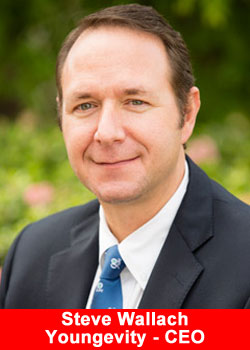 Youngevity International, Inc. (OTCQX: YGYI) today announced that its wholly-owned subsidiary CLR Roasters has forged a partnership with Major League Baseball's Miami Marlins — to feature the Café La Rica Gourmet Espresso as the "Official Cafecito of the Miami Marlins" for all home games.
Café La Rica Gourmet Espresso will be available starting today when the Marlins play the Atlanta Braves at Marlins Park in their home opener.
Café La Rica espresso is a unique blend of the finest coffees, offering a fine aroma, thick crema, and a bold flavor true to the authentic Cuban coffee tradition.
Café La Rica, over the past 3 years, has been one of the faster growing espresso brands and this Co-Branding opportunity with the Miami Marlins is expected to further enhance Cafe La Rica's relationship with its retail partners. Café La Rica is available in Publix, Presidente, Fresco Y Más, Sedanos, Sam's Club, Wal-Mart, Winn-Dixie and various local independent stores.
Under the terms of the 3-year agreement, Café La Rica will: provide a branded Café La Rica coffee cart in the main promenade of the ballpark; enjoy messaging on the LED Ribbon Board during the 7th Inning Stretch MarlinsVision feature; offer 90-second promotional spots on the in-park television network during all regular season home games; utilize first and third baseline rotational signage; and be able to utilize the trademarks of the Marlins on its packaging.
The Marlins agreement represents a significant milestone for CLR Roasters and its premier brand, Café La Rica,
stated Steve Wallach, Co-Founder, and CEO of Youngevity. We look forward to reaching the millions of Marlins fans who attend at home games everymyear. These fans are part of the vibrant Miami community that CLR Roasters has been, and will continue to be, proud to support.
We are proud to have CLR's Flagship brand, Café La Rica, standing alongside the prestigious brands of Pepsi and Budweiser which are also available to purchase at all Marlins home games,
continued Dave Briskie, President and CFO of Youngevity.
Ernesto Aguila, The President of CLR Roasters stated, "This relationship with the Miami Marlins cements Cafe La Rica as the local brand of our community.
The Marlins and Café La Rica are congruent in our message of providing loyal service to our community. This relationship should help strengthen our ties to this market and support our brand promise for years to come. All our coffees feature the finest growing environment, the best coffee beans available and certified processing capabilities.
Miami is the U.S. gateway to Latin America — its young and vibrant population complements Youngevity, CLR Roasters' and our Café La Rica Brand's international audience.
As a result of this partnership with the Miami Marlins, Café La Rica has proudly arranged promotions with Au Bon Pain, Latin America, Espresso Gourmet and other fine food service establishments in South Florida.
"The Marlins are honored to partner with such a respected member of the Miami business community," stated Brendan Cunningham, Vice President of Corporate Partnerships for the Miami Marlins. "With its Latin roots, CLR Roasters has captured the growing appeal apparent in its unique espresso blend from Central and Latin America for authentic Hispanic Cuban Cafecito. Café La Rica was chosen as the "Official Cafecito of the Miami Marlins" because the brand inspires that 'first class fan experience' that the Marlins provide."
Acquired in 2011, CLR is a mid-sized coffee roaster division that operates a 50,000 sq. ft roasting plant and distribution facility. CLR produces gourmet coffees under its own boutique brands, private label brands, and for Youngevity under JavaFit® and Be the Change Coffee. One hundred percent of the profits from Youngevity Be the Change Coffee support operations for the Youngevity Be The Change Foundation. CLR Roasters maintains the following certifications: USDA Organic, Fair Trade, Café de Colombia (sustainability focused) and OU Kosher. The division has obtained its Safe Quality Food (SQF level) two Certification.
About CLR Roasters
Youngevity's coffee manufacturing division, CLR Roasters, was established in 2001 and is a wholly-owned subsidiary. CLR Roasters is a mid-sized coffee roaster that produces gourmet coffees under its own boutique brands – Café La Rica®, Josie's Java House®, and Javalution®; manufactures a variety of private labels for major national chains; and for the direct selling channel under Youngevity International. The company remains one of the largest suppliers in North America to the cruise line industry. CLR was the first entrant into the fortified coffee niche with its Youngevity JavaFit® brand. In May 2014, CLR acquired a coffee plantation and processing facility in Nicaragua, allowing the entity to control coffee production and quality – from field to cup.
About Youngevity International, Inc.
Youngevity International, Inc. (OTCQX: YGYI), is a leading omni-direct lifestyle company – offering a hybrid of the direct selling business model, that also offers e-commerce and the power of social selling. Assembling a virtual Main Street of products and services under one corporate entity, Youngevity offers proven products from the six top-selling retail categories: health/nutrition, home/family, food/beverage (including coffee), spa/beauty, apparel/jewelry, as well as innovative services.
The Company was formed during the summer 2011 merger of Youngevity Essential Life Sciences with Javalution® Coffee Company (now part of the company's food and beverage division). The resulting company became Youngevity International, Inc. in July 2013. For investor information, please visit YGYI.com. For general information on products and services, please visit us at youngevity.com. Keep up with our activities by liking us on Facebook and following us on Twitter.