Youngevity Launches Whole Food Product – Super Greens
April 19, 2017
By Team Business For Home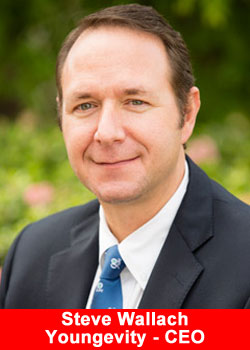 Youngevity International, Inc. ( OTCQX : YGYI ), a leading omni-direct lifestyle company, is debuting its first phyto-nutrition, fermented whole food product — Super Greens™.
The Super Greens drink powder, developed utilizing the latest nutritional research in plant-based nutrition along with a specialized nutritional delivery method and technology, was developed in conjunction with New York Times' best-selling author, Jordan Rubin — a pioneer in whole food nutrition, who wrote The Maker's Diet, and is the founder of Garden of Life and Beyond Organic.
Super Greens is predominately a phyto-nutrient based product, in which plant based extracts and whole foods are used in the formulation. Phyto-nutrients are classified as the health providing nutrients in whole foods, the natural antioxidants and the original matrix of vitamins and minerals. Each ingredient in Super Greens provides complementary nutrients, creating a full foundational set of nutrients with each serving.
Youngevity's refreshing Peppermint-flavored Super Greens harnesses the power of raw, certified organic juices from vegetables and super fruits, as well as live probiotics and enzymes — to offer balanced nutrition to any dietary regimen. A specialized fermentation technique maximizes the bio-availability of nutrients and probiotics. Super Greens provides a convenient, great-tasting way to add the plant-based nutrition that is so difficult to obtain in routine daily meals.
Our Super Greens beverage reflects Youngevity's ultra-premium standards for delivering the highest quality of nutritional supplementation, stated Steve Wallach, CEO and Co-Founder of Youngevity.
With Super Greens, we take the next step in nutritional product diversification — building upon our vitamin — and mineral-based supplementation approach by adding best-in-class, fermented whole plant nutrition supplementation.
Our inaugural phyto-nutrition product offers individuals looking to better their lives yet another quality option for meeting their daily nutritional needs related to exercise and to positive daily living.
Whole food-based nutritional supplementation and sophisticated fermentation to deliver this nutrition for maximum bio-availability, Super Greens is at the leading edge of nutritional supplementation, stated Dave Briskie, President and CFO of Youngevity.
When we launch a new nutrition product, we are seeking to offer the latest and best science, the cutting edge of what is available — to push our own product boundaries to innovate and to benefit our consumers.
Additional Features of the Youngevity Revolutionary Super Greens:
Utilizes organic whole foods — fruits and nutrient dense vegetables

Contains a superfood botanical blend, fermented fruits and greens, herbs and spices

Live probiotics and enzymes from soil-based organisms

Gluten free, dairy free, alkalizing, high In antioxidants

Natural and organic flavoring system — peppermint and spearmint
Youngevity was founded upon the pioneering principles of Dr. Joel Wallach; always looking forward to the betterment of society. Today Youngevity seeks to continue to meet this mission with groundbreaking products, innovative services and a fulfilling business opportunity individually defined through flexibility and personal lifestyle choices. And in this Pursuit of Betterment, the Company continues to build and grow its Youngevity Be The Change Foundation. 100% of the profits from Youngevity Be the Change Coffee, and other special products highlighted on the Foundation website finance Foundation operations.
Read more about the benefits of Super Greens at www.ygy4u.com/shakeitup and to learn more about Youngevity visit www.youngevity.com.
About Youngevity International, Inc.
Youngevity International, Inc. ( OTCQX : YGYI ), is a leading omni-direct lifestyle company — offering a hybrid of the direct selling business model, that also offers e-commerce and the power of social selling. Assembling a virtual Main Street of products and services under one corporate entity, Youngevity offers products from the six top selling retail categories: health/nutrition, home/family, food/beverage (including coffee), spa/beauty, apparel/jewelry, as well as innovative services.
The Company was formed in the course of the summer 2011 merger of Youngevity Essential Life Sciences with Javalution® Coffee Company (now part of the company's food and beverage division). The resulting company became Youngevity International, Inc. in July 2013. For investor information, please visit YGYI.com. Be sure to like us on Facebook and follow us on Twitter.