Health and Prosperity: Mark and LaQuadia Smith's Total Life Changes Experience
May 29, 2017
By Nicole Dunkley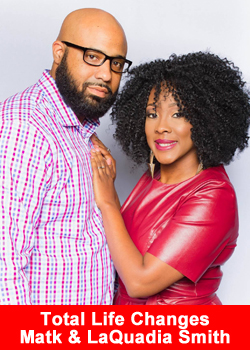 Network marketing success is about more than skill or charm: top sellers must have a compelling why that pushes them to higher achievement. For Mark Smith, that why was his wife, LaQuadia.
When the couple joined TLC in 2014, LaQuadia was working for the State of North Carolina, but Mark believed she had so much more potential than her job had allowed her to show—and that she needed something to distract her from her pain.
LaQuadia was born with sickle-cell disease, a blood disorder which had her taking four to six Motrins per day to manage. Doctors had told her to prepare herself for a hip replacement within the next year. After drinking the Iaso Tea for three short weeks, she noticed a clear improvement in her pain. She was even able to cancel her scheduled surgery. "Iaso, NutraBurst and Gano changed my life," she says.
Now Mark and LaQuadia are TLC National Marketing Directors, with a reported monthly income of $10,000. They'll soon be moving with their two children from a townhouse to the new home they're building together. The couple couldn't be more grateful to their sponsors, Executive Ambassadors Gregg and Lenika Scott.
"I have been following Lenika since 2008," says LaQuadia. "Everything Lenika Scott did, I did." But when it came to Total Life Changes, she ignored Lenika's social media posts about "Losing 5lbs in 5 Days," because she knew she would end up asking her husband Mark if she could sign up with TLC.
It wasn't long though before Lenika sent her a free packet of Iaso Tea in the mail; and then, of course, they got a call from Gregg and Lenika saying let's do dinner. Dinner was on a Thursday, and by the following afternoon Gregg and Lenika had Mark and LaQuadia's credit card to sign them up.
We asked Mark why he feels TLC attracts such an ethnically and geographically diverse group of entrepreneurs. "There is a diversity of people but there is a singularity of mindset," Mark says. "We all see an opportunity to change our lives and impact the lives of many we know." The Smiths claim to have helped many make real changes.
Team member Elwood Whitaker Jr. was laid off last year after six years on the job—already having experienced improvement in his blood pressure thanks to TLC, he's now committed himself to the company full-time and has no intention of returning to his old job.
Tyrenza Taylor was 326 pounds before committing to a healthier lifestyle, including TLC products. She's lost up 60 pounds since January of this year, improving her asthma and high blood pressure. She's now the CEO of her own business inside the biggest gym in Lumberton, North Carolina (the Smiths' hometown).
"TLC is different from other network marketing companies because the products work and the compensation plan is unheard of," says LaQuadia. "TLC has created a culture of integrity, a culture of growth, a culture of support and a culture where everyone can win if they follow the system."
About Total Life Changes
Total Life Changes® offers a diverse product portfolio of health, wellness and beauty products. President and newly named, Tea Executive Officer, Jack Fallon created TLC over 16 years ago with a single product: NutraBurst®.
Since that time, TLC has continued to develop the Iaso® brand of products to include a diverse and attractive product portfolio matched with a hybrid binary system that allows IBOs of TLC to be compensated quickly for introducing new customers to our products and business opportunity.  Find out why so many are saying, "It really is different over here."