Mark And Miki Nishiyama Achieve $200,000 Per Month With OneLife
May 6, 2017
By Team Business For Home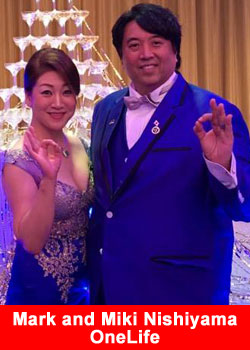 Mark and Miki Nishiyama, Blue Diamonds from Japan are currently placed in the Top 100 in the Business For Home ranking, with incomes approaching $200,000 per month.
They were the first Diamonds at their organization of OneLife in Japan and are currently Blue Diamonds. This couple has broken records both within the company and in Japan since they started working with OneLife on the Success 4 All team led by Igor E. Alberts and Andreea Cimbala.
This couple of leaders possess many years' experience, working both together and separately. They have created strong organizations in their previous companies, although it's with OneLife and the Success 4 All OneDreamTeam team where they have encountered the biggest change.
It is incredible that we are travelling all over the world and we can do it in the comfort of first class flights, when not too long ago we could hardly pay the rent. We have to thank our friends Igor and Andreea a lot, they told us about OneLife at a key moment in our lives. Miki tells us.
Andreea Cimbala and Igor E. Alberts, founders of Success 4 all, are the sponsors of this couple of leaders at OneLife, and two of the largest references of successful careers in the industry right now, placed No. 3 in the Top Earners Ranking. We knew each other from a previous company. They had decided to try a new opportunity, we kept in touch.
They had already invited us on other occasions. We knew they were doing great things there, they were having incredible success. But it was something too innovative, something very new, and we did not dare. That was until we had to make a drastic decision. And, despite the tireless work and the time they dedicated to their business and their teams, there was a period when nothing seemed to work well for Mark and Miki Nashiyama.
They moved into a tiny flat, and the income began to wane in such a way that they couldn't even keep up with the bills and the rent. Today we still talk about sleeping the two of them in a single bed with arms attached to the body because it was very small. Each time we wanted to stretch our arms we would have to cross our arms above our heads.
Today we still have the habit of folding Arms when we sleep, even with a bigger bed. Mark Nishiyama says about his experience in that flat. When they found themselves in the situation of having to borrow money to cover the bills, they knew it was time to make a change in their lives. At the age of 50 I found myself asking my father for money to pay the rent. It's not exactly a goal in life. Miki had to sell her jewellery. And although today I can give her any presents she wants, it's painful to see yourself in a situation where you have to sacrifice something of a sentimental value to be able to survive. When you have to do that, it's the limit.
They hadn't lost their passion for Network Marketing, which prevented them from giving up. But they needed a new approach. In business, you sometimes have to realize where the world is moving and not to stay behind. I cannot say that I saw it in time, but at least I was given good advice, and I had the courage to follow it.
I had a long conversation with Igor on the phone, and he assured me the answer was in the company he was working with at the time. He explained well how it all worked, told me about financial education and what they were achieving and the great organization they were creating. It was something different, a different concept, and each time it looked more attractive. There was an event in Macao which Igor and Andreea were going to visit the following week after our phone conversation, and he insisted on us coming as well.
Today, I am very happy to have been there and I thank him for having insisted until I agreed to go. And we are grateful to them, as well as to all those who have supported us in this new stage of our career. Especially the Steinkeller Brothers who encouraged us to represent OneDreamTeam in Japan. Thanks to Udo Deppisch and also, of course, to Juha Parhiala, who we met in Macao. After the event in Macao, Mark and Miki Nishiyama began to expand the organization Success 4 All OneDreamTeam in Japan and other parts of Asia and even Oceania.
We work with numerous teams from different places, but with an incredible connection. We have done our best from the beginning, working every day for more than 13 hours, for our sake at the beginning, but now we continue doing our best for the team. And this time, we have a very powerful tool for us and for the members of our team: financial education. Miki says. We have a huge responsibility for our team. We teach them not to make mistakes that we ourselves committed in the past.
That's what a leader does. And it's not a responsibility just because they work with us. It's a responsibility because the team comes first, and in this team, Success 4 All, we have come to feel that it's really a family. And you always want the best for your family. In their second month of work, billing more than $20,000, they were able to pay all the debts and to begin to gain real financial freedom. They now exceed $200,000 per month, with little more than a year in the company.
They have the current mission to share the opportunity and help as many people as possible achieve their dreams thanks to financial education.