Network Marketing Helps Mother Of Twins Mélaine Bernard Triple Her Income
May 21, 2017
By Nicole Dunkley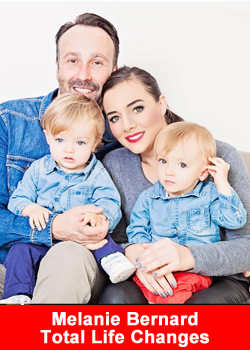 When Mélaine Bernard discovered network marketing four years ago, she saw an opportunity to change her life. By being her own boss and setting her own hours while selling genuinely high quality products, she found a way to balance her income needs with having time to pursue personal goals and interests.
Mélaine regards the daily challenges presented by marketing Total Life Changes products as growth opportunities, each one bringing her closer to maximizing her potential.
Of course, Mélaine's situation was plenty challenging already. When she started out in network marketing, she had just learned she was pregnant with twins. Due to potential complications, Mélaine's doctor forbade her to work while pregnant.
Her company didn't pay her salary during her leave, placing her in a very difficult financial situation. There was a real risk she would lose everything.
"Becoming involved in network marketing was the best decision of my life," she says. "I have been able to raise my children while being paid to help people."
Within a few months, with a lot of work and determination, Mélaine had tripled the salary that she was earning as an employee. "I decided to 'lay off my boss' and live only off of network marketing," she says.
A year later she reached another fork in the road when she discovered Total Life Changes, "I immediately fell in love with the range of fantastic products," Mélaine recalls. "I found the compensation plan very fair to the distributors, and respected the values of the company."
This created a real dilemma. She was in a very comfortable situation with her previous network marketing business, with two very young children at home. "At that moment, I had fear: fear of failure, fear of loss. I had worked so hard to have the life that I had, but I told myself that nobody had succeeded at a high level in business without taking risks. After all, if I had done it once, I could do it again. And there was just this little voice inside, telling me that TLC was the right fit for me."
In just one year with TLC, Mélaine had reached the position of National Director, leading a team of more than 2000 distributors. "Hundreds of families have changed their lives thanks to TLC," she says. "And this is only the beginning of this wonderful adventure!"
Her first year was not without its challenges, including the launch of the company in Europe. "A lot of people have quit on the voyage, but it is in the hardest times that we discover the real captains," says Mélaine. "I am proud of everything that we have accomplished, and I know that I have made the best of decisions by joining this fabulous company."
Mélaine ascribes her success to being in the right place, at the right time and with the right people. That doesn't mean it's a matter of luck: she's made her own opportunities by keeping her eyes on the prize. "I would like to thank the leadership of TLC, Rosa, John and Jack, for your values, your accessibility and your humility, and for having created a wonderful company that lives up to its name: total life changes.
"If I can share my recipe for success, it's this: dream big, work hard, stay focused and surround yourself with good people."
About Total Life Changes
Total Life Changes® offers a diverse product portfolio of health, wellness and beauty products. President and newly named, Tea Executive Officer, Jack Fallon created TLC over 16 years ago with a single product: NutraBurst®.
Since that time, TLC has continued to develop the Iaso® brand of products to include a diverse and attractive product portfolio matched with a hybrid binary system that allows IBOs of TLC to be compensated quickly for introducing new customers to our products and business opportunity.  Find out why so many are saying, "It really is different over here."