Nu Skin Q1 Sales Up 6% To $499 Million
May 4, 2017
By Team Business For Home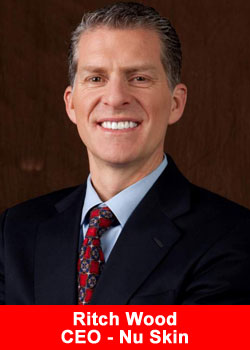 Nu Skin Enterprises, Inc. (NYSE: NUS) today announced first-quarter 2017 financial results.
"We are pleased to deliver strong first-quarter results, which demonstrates the progress we made executing on our strategic priorities to increase customer trial and acquisition," said Ritch Wood, chief executive officer.
"Our quarterly results reflect solid growth in Mainland China, South Asia/Pacific and EMEA.
Our expanding social selling efforts and the continued rollout of ageLOC Me and ageLOC Youth contributed to our strong revenue during the quarter, positioning us to deliver solid performance for 2017."
"Looking forward, we will continue to focus on accelerating growth, driving innovation throughout our business, and empowering our customers and sales leaders with the products, programs, and platforms they need to succeed in a rapidly-evolving marketplace," said Wood.
"A key component of our strategy is capitalizing on our early social selling success by expanding our reach through online channels globally. As part of this effort, we are making our product portfolio and business opportunity more accessible and attractive, particularly to the important millennial segment. We are confident that as we continue to execute on our initiatives, we will reach our 2017 business targets and will be well positioned for long-term growth and shareholder value creation."
Key Highlights
| | |
| --- | --- |
| Revenue: | $499.1 million, a 6% improvement over Q1 2016; negatively impacted 1% by foreign currency fluctuations |
| Earnings Per Share (EPS): | $0.51, compared to $0.06 in Q1 2016 which included a $0.36 non-cash Japan customs charge |
| Sales Leaders: | 54,600, a 1% year-over-year decrease |
| Customers: | 980,000, a 2% year-over-year improvement |
"Our financial results in the first quarter put us on track to achieve our previously announced annual guidance," said Mark Lawrence, chief financial officer. "As we discussed at our investor day, we had significant limited-time-offers (LTOs) of $106 and $56 million in the second and third quarters of 2016.
In the fourth quarter, we will begin a significant product introduction of our new ageLOC LumiSpa skin renewal and deep-cleansing device, which we anticipate will generate approximately $100 million in sales. These LTOs and product introductions will significantly impact our comparable sales and guidance for the balance of the year. We reiterate our 2017 forecast of $2.26 to $2.30 billion in revenue, and earnings per share of $3.10 to $3.25. We project second-quarter revenue of $530 to $550 million and earnings per share of $0.65 to $0.70," concluded Lawrence.
About Nu Skin Enterprises, Inc.
Founded more than 30 years ago, Nu Skin Enterprises, Inc. develops and distributes innovative consumer products, offering a comprehensive line of premium-quality beauty and wellness solutions.
The company builds upon its scientific expertise in both skin care and nutrition to continually develop innovative product brands that include the Nu Skin® personal care brand, the Pharmanex® nutrition brand, and most recently, the ageLOC® anti-aging brand. The ageLOC brand has generated a loyal following for such products as the ageLOC Youth nutritional supplement, the ageLOC Me® customized skin care system, as well as the ageLOC TR90® weight management and body shaping system.
Nu Skin sells its products through a global network of sales leaders in Asia, the Americas, Europe, Africa and the Pacific. As a long-standing member of direct selling associations globally, Nu Skin is committed to the industry's consumer guidelines that protect and support those who sell and purchase its products through the direct selling channel. Nu Skin is also traded on the New York Stock Exchange under the symbol NUS. More information is available at nuskin.com.