USANA Q1 Sales Up 6.2% To $255 Million
May 3, 2017
By Team Business For Home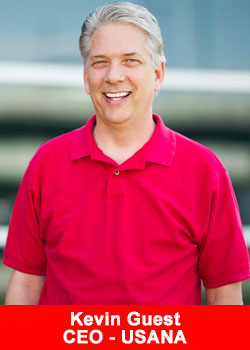 USANA Health Sciences, Inc. (NYSE: USNA) today announced financial results for its fiscal first quarter ended April 1, 2017.
Financial Performance
For the first quarter of 2017, net sales increased to $255.3 million, up 6.2%, compared with $240.4 million in the prior-year period.
A stronger U.S. dollar negatively affected net sales by $6.2 million for the quarter with $6.1 million of that change attributable to mainland China. On a constant currency basis, net sales increased by 8.8% for the first quarter of 2017. Net sales growth was driven primarily by an 8.1% increase in the number of active Customers.
Net earnings for the first quarter decreased by 4.2% to $21.4 million, compared with $22.3 million during the prior-year period. Higher operating expenses, primarily in SG&A expense, and a higher effective tax rate negatively impacted net earnings during the quarter. These were partially offset by improved gross margins, which benefitted from favorable changes in currency and annual price adjustments.
Earnings per diluted share for the first quarter decreased by 3.4% to $0.86, compared with $0.89 in the prior year period. The decrease in earnings per diluted share is the result of lower net earnings, partially offset by a lower diluted share count. The expense related to the Company's internal investigation into its China operations, which was disclosed in February 2017, negatively impacted diluted earnings per share by approximately $0.05.
Weighted average diluted shares outstanding were 25.0 million for the first quarter of 2017, compared with 25.2 million in the prior-year period. The Company did not repurchase any shares during the quarter and finished the quarter with $176.3 million in cash and cash equivalents and no debt. As of May 2, 2017, $35.4 million remains available under the current share repurchase authorization.
"USANA generated solid top-line and customer growth during the quarter,"
said Kevin Guest, Chief Executive Officer.
"Our earnings were impacted by additional expense related to our previously disclosed internal investigation during the quarter. Setting aside these expenses, our bottom-line results were essentially in-line with our expectations. We remain focused on implementing our 2017 growth strategies, including our initiatives designed to drive overall customer growth and our new product announcements later this year."
Regional Results
Net sales in the Asia Pacific region increased by 10.6% to $195.1 million, despite a negative $5.7 million impact from the strengthening of the U.S. dollar. Within Asia Pacific, net sales:
Increased 12.6% in Greater China (up 17.4% on a constant currency basis);

Increased 3.2% in Southeast Asia Pacific region (up 4.5% on a constant currency basis); and

Increased 22.7% in North Asia (up 18.0% on a constant currency basis).
Sales growth in Greater China was primarily driven by 18.2% active Customer growth in mainland China, while sales growth in Southeast Asia Pacific resulted from modest active Customer growth in a few markets in the region. Finally, sales growth in North Asia resulted from 21.7% active Customer growth in South Korea. The total number of active Customers in the Asia Pacific region increased by 12.2% year-over-year.
Net sales in the Americas and Europe region decreased by 5.9% to $60.2 million. The decrease was due to a decline in sales and active Customers in the U.S., which was partially offset by sales and active Customer growth in Mexico. A stronger U.S. dollar negatively impacted top-line results in the region by $0.5 million.
"We continue to see solid growth in each of our regions within Asia Pacific," continued Mr. Guest. "China and South Korea remained the standouts during the quarter and drove the majority of our growth. Our performance in the Americas and Europe region, however, was below our expectations due to a continued sales and customer decline in the U.S. and softer-than-anticipated sales and customer results in Canada. Our team continues to focus on improving our sales and customer growth in the United States through both existing and new strategies."
Changes in Customer Reporting
During the quarter, we continued to pursue our objective of enhancing our Preferred Customer program by initiating our Preferred Customer Invitation Plan in the United States. Under this plan, we invited active Associates in the United States, who met certain criteria, to become Preferred Customers. For many years, we have collected and analyzed a variety of data on our active Associates.
This data, along with our communications with Associates, suggest that we have a significant population of individuals who historically joined USANA as Associates, but are interested only in purchasing and consuming our products. Our Preferred Customer Invitation Plan reflects our philosophy that treating individuals who desire only to be customers as customers is beneficial to both the customer and USANA.
Doing so will allow us to further personalize USANA to the customer and enhance our overall customer service to them. To that effect, during the first quarter, 16,000 active Associates in the United States became Preferred Customers pursuant to our invitation plan. During the remainder of 2017, we will offer the same invitation to Associates in our other markets around the world.
New Chief Financial Officer
The Company also announced the promotion of G. Douglas Hekking, former Executive Vice President of Finance, to Chief Financial Officer. Mr. Hekking joined USANA in 1992 and has served the Company in several management positions, including as Chief Financial Officer between May 2011 and December 2012.
Mr. Guest continued, I have had the great pleasure of working closely with Doug for 25 years. He has been a key asset to USANA and has made significant contributions to our growth in multiple capacities within the Company. We are pleased to welcome him back into the CFO role.
About USANA
USANA develops and manufactures high-quality nutritional supplements, healthy foods and personal care products that are sold directly to Associates and Preferred Customers throughout the United States, Canada, Australia, New Zealand, Hong Kong, China, Japan, Taiwan, South Korea, Singapore, Mexico, Malaysia, the Philippines, the Netherlands, the United Kingdom, Thailand, France, Belgium, Colombia and Indonesia. More information on USANA can be found at https://www.usanahealthsciences.com.