Youngevity Awarded 10 Telly Awards
May 11, 2017
By Team Business For Home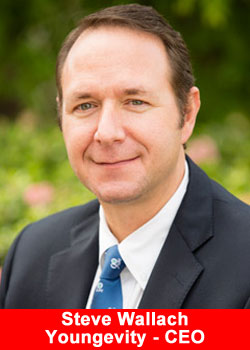 Youngevity International, Inc. (OTCQX: YGYI), a leading omni-direct lifestyle company, is announcing that it has been recognized by the 37th Annual Telly Awards with 10 wins — 3 Silver and 7 Bronze — in the Company's first year of entry.
The Telly Awards is an international premier award honoring outstanding local, regional and cable TV commercials and programs, as well as the finest video and film productions and online commercials, videos and films.
Winners represent the best work of the most respected advertising agencies, production companies, television stations, cable operators and corporate video departments in the world.
"We are extremely proud to be recognized for our submissions as each video encapsulates the essence of Youngevity, its mission and community,"
stated Steve Wallach, CEO and Co-Founder of Youngevity.
"Thank you to Scott Salik, Vice President of Global Content, who was able to bring his award-winning vision and skills to our content team and guide us through this process."
"This recognition is especially gratifying in that we had a number of award winning videos celebrate our Associates and staff contribution to the community."
stated Dave Briskie, President and CFO of Youngevity.
This year, the Telly Awards received over 12,000 entries from the U.S. and 5 continents. The entries were judged by a prestigious panel of 600+ accomplished industry professionals, each a past winner of a Silver Telly and a member of The Silver Telly Council.
The judges rated each submission on a 10-point scale. Generally, 7-10% of entries earn a "Silver Telly" statuette with a score of 9.0 or higher. Entries with an average judge score of 7.0 to 8.9 are awarded a "Bronze Telly" statuette for outstanding achievement. Entries do not compete against each other. Rather, they compete against a high standard of excellence.
The 3 Silver Tellys awarded to Youngevity included videos that focused on community activities and service through the Youngevity Be The Change Foundation.  The videos honored are listed below and can be viewed here.
"Youngevity Be The Change Foundation: My Story Matters"
"Youngevity Heroes 2016 – Stan and Laura Dennison" – a video honoring Stan and Laura Dennison as 2016 Youngevity Heroes.
"Youngevity Be The Change Foundation: Mike Glenn Basketball Camp For the Deaf and Hard of Hearing"
In the Bronze category, Youngevity earned Telly's for the 7 following videos listed below and can be viewed here.
"Youngevity Mineral Mine Tour"
"Rebound Award: Asif Chisti"
"Why Social Selling Works"
"Rebound Award: Bryan Baum"
"Success Story – Dr Luis & Evelia Arriaza"
"CLR Coffee Roasting"
"Year in a Snap"
Youngevity was founded upon the pioneering principles of Dr. Joel Wallach; always looking forward to the betterment of society.  Today Youngevity seeks to continue to meet this mission with groundbreaking products, innovative services and a fulfilling business opportunity individually defined through flexibility and personal lifestyle choices.
To learn more about Youngevity please visit www.youngevity.com.
About Youngevity International, Inc.             
Youngevity International, Inc. (OTCQX: YGYI), is a leading omni-direct lifestyle company – offering a hybrid of the direct selling business model, that also offers e-commerce and the power of social selling.  Assembling a virtual Main Street of products and services under one corporate entity, Youngevity offers products from the six top selling retail categories:  health/nutrition, home/family, food/beverage (including coffee), spa/beauty, apparel/jewelry, as well as innovative services.
The Company was formed in the course of the summer 2011 merger of Youngevity Essential Life Sciences with Javalution® Coffee Company (now part of the company's food and beverage division).  The resulting company became Youngevity International, Inc. in July 2013.  For investor information, please visit YGYI.com.    Be sure to like us on Facebook and follow us on Twitter.