Interview With Isis De La Torre CFO iMarketslive
June 1, 2017
By Team Business For Home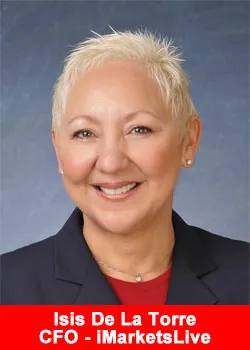 Isis De La Torre, is CFO of International Markets Live, Inc, better known as iMarketsLive in the Network Marketing Arena, and has taken the time to tell us more about herself, the company, and her vision
We asked Isis to give us One Word to describe her company and to give us more insight on how iMarketsLive has helped enhance the many lives around the world, especially women in a male dominated industry.
Isis de La Torre:
"International Markets Live Inc. (IML) is in one word Empowerment.
IML was born from an inspiration, a vision, and a mission. IML CEO, Christopher Terry and I, always believed in creating a True Vehicle that will bring people respect and dignity for themselves, and the power to change their lives and the lives of others, from any financial, educational, and cultural background, and from any country around the world.
First, it was always my vision and goal to empower women because my personal believe is that women are the pillar of our families. Women are responsible for the well being of our spouses, children, parents, brothers, sisters, community, society, country, and the whole world.
Women have to learn more about financial education, so we can pass that knowledge to our children, our family, our community, our church, our society, our country, and the whole world.
As a Business and Career woman, with over thirty (30) years in the financial arena, I have seen many professionals in the United States earn a very good income, but lack the knowledge of how to manage their income and put it to work to their advantage.
Most people live paycheck to paycheck, and never learn how to save, invest, and plan for the future and for retirement.
For many years, as a Financial Professional, I have become fully aware of the lack of Financial Education the United States, and perhaps the rest of the world, where we have been "programmed" by our parents, educators, and society, to get a "good" education, and get a "good" job.
However, nobody has taught us, not even in the school system, how to create Financial Wealth, Financial Security, Financial Peace of Mind, and prepare for Retirement.
With IML, my goal is to bring financial wisdom to women around the world, so that they can in turn instill that wisdom to their children, their family, their friends, their school, their church, their community, their society, their country, the world, and every person they get in touch with.
My mission, and the mission of every woman, is to teach values and morale in the whole world, by teaching financial principles that will greatly reduce, if not eliminate, the root cause of our problems, which is lack of money. I truly believe in my heart this it possible, and that it can be done, one person at a time.
IML is comprised over 50% women, and I am so proud of each and every one of them.
Second, it has always been my vision to empower people from other countries outside the United States. Being Latina myself, I recognized that people in most countries, especially third world countries, don't have the same opportunities that people in the United States has.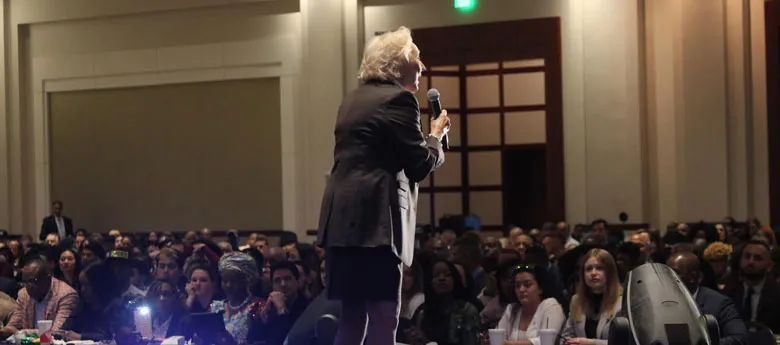 It is for this reason, that I am so proud and grateful that IML can bring its Online Educational Platform to all the countries around the world, on the Foreign Exchange Market, which is the largest Market in the world, of $5.3 trillion per day in volume. IML is in over 200 countries, and in over 50 languages.
IML is offering a amazing  Opportunity to any person, from any financial, educational, and cultural background, and from any country around the world, to enter the most powerful and lucrative market, for literally pennies on the dollar. IML is about educating and teaching people a career that will stay with them for life, that will provide them another source of income, and that will allow them to diversify their income stream.
Currently, we at IML are working on many projects to provide State of the Art tools and services to our members, so they can obtain more benefit from IML Products and Services such as: revamping our IML Website, adding Credit Card Processors, adding e-Wallets, adding Supervisors and Customer Support Staff, and more.
IML CEO, Christopher Terry and I, are confident that IML is revolutionizing the Financial Markets Arena, that IML is becoming a household name, that is taking over the Financial Education Industry by storm, and that is making history, because we are bringing an opportunity to people that is never been done before, and we are committed to changing millions and millions of people lives, one person at a time" 🙂
About iMarketsLive
iMarketsLive provides a full array of retail trading products and services to a global audience for those who want to participate in the Forex & Futures Markets. iMarketsLive's services include a Live Educational Services, Hands Free Mirror Trading as well as a Robotic Trade Scanner and other amazing services.
iMarketsLive has a bundled their products/services with a Network Marketing compensation plan that allows its IBO's to earn a generous income by simply sharing their services with others and building a residual income though building a network of IBO's and customers. For more information please visit www.imarketslive.com