Youngevity Announces Reverse Stock Split
June 7, 2017
By Team Business For Home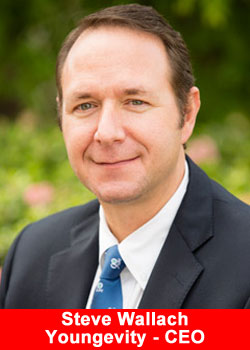 Youngevity International, Inc. (OTCQX: YGYI), a leading omni-direct lifestyle company, today announced that the Company has filed a Certificate of Amendment to its Certificate of Incorporation to implement a 1 for 20 reverse stock split of the Company's  authorized, issued, and outstanding common stock  in preparation for its proposed listing of its common stock on the NASDAQ Capital Market.
The reverse split was approved by the Company's stockholders on February 23, 2017, followed by a unanimous vote by the Board of Directors.
The reverse stock split will become effective with the Financial Industry Regulatory Industry (FINRA), and in the marketplace on June 7, 2017 whereupon the shares will begin trading on a split adjusted basis  under the symbol "YGYID", with a "D" to be added for 20 trading days to signify that the reverse split has occurred.
After that time, the Company's ticker symbol will once again be "YGYI." Youngevity's transfer agent, Fidelity Transfer, will act as exchange agent for the reverse split. Youngevity stockholders will receive forms and notices to exchange their existing shares for new shares from the exchange agent or their brokers. The NASDAQ listing, if approved, is expected to facilitate greater liquidity in the stock as well as enable broader market access to the investment community as many participants have been unable to purchase stock listed on the OTCQX, where Youngevity is currently listed.
The Company believes it will meet the requirements for listing the Company's common stock on the NASDAQ Capital Market; however, before any listing of the common stock on the NASDAQ Capital Market could occur, NASDAQ will need to approve the Company's application for listing after the reverse stock split is completed.  There can be no assurance that the Company's application will be approved.
"Over the years our philosophy was to build the business of Youngevity and the value built would be reflected by our share price,"
stated Steve Wallach Co-Founder and Chief Executive Officer of Youngevity. "The NASDAQ uplisting is expected to advance that opportunity by positioning  Youngevity with a much wider spectrum of investors. Potential investors who were unable to consider participation in an investment in Youngevity will now have the opportunity to do so. We strongly believe that up-listing to the NASDAQ truly creates an opportunity that up until now has not been available for many."
"It has always been our vision to list Youngevity on a major exchange,"
stated Dave Briskie, President and CFO of Youngevity. "
We are extremely gratified to execute this reverse split in anticipation of an exciting transition to the NASDAQ Capital Markets Exchange. We believe that listing on the NASDAQ is pivotal for attracting a larger and more diverse shareholder base going forward. At this time we would also like to express our gratitude to current shareholders who have exhibited loyalty and patience as Youngevity has undertaken this process".
The Company will file a Current Report on Form 8-K with the Securities and Exchange Commission that will provide additional details regarding these matters.  Readers are encouraged to review such Current Report on Form 8-K and the exhibits thereto in their entirety.
To learn more about Youngevity please visit www.youngevity.com.
About Youngevity International, Inc.                    
Youngevity International, Inc. (OTCQX: YGYI), is a leading omni-direct lifestyle company – offering a hybrid of the direct selling business model, that also offers e-commerce and the power of social selling.  Assembling a virtual Main Street of products and services under one corporate entity, Youngevity offers products from the six top selling retail categories:  health/nutrition, home/family, food/beverage (including coffee), spa/beauty, apparel/jewelry, as well as innovative services.
The Company was formed in the course of the summer 2011 merger of Youngevity Essential Life Sciences with Javalution® Coffee Company (now part of the company's food and beverage division).  The resulting company became Youngevity International, Inc. in July 2013.  For investor information, please visit YGYI.com.    Be sure to like us on Facebook and follow us on Twitter.