Youngevity Distributors From 8 Countries Attend Asia Launch Event
June 9, 2017
By Team Business For Home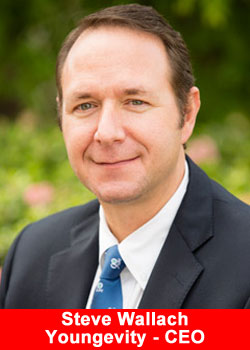 Youngevity International, Inc. (OTCQX: YGYID) revealed that it held its first ever Asia Convention.
The event made possible via Youngevity's recent acquisition of BellaVita was attended by corporate staff both from the USA and Asia along with hundreds of Youngevity Distributors from 8 countries including Japan, Taiwan, Singapore, Malaysia, Indonesia, Brunei, Hong Kong and China.
The convention was held in Taichung, Taiwan where Bellavita and Youngevity distributors came together for the first time to discuss the integration and expansion strategies of the combined companies.
Mike Brosnan, the founder of Bellavita and now the VP of Asia for Youngevity had this to say,
"I have never been prouder to attend an event than what I experienced during our Asia Convention. Our distributors enthusiastically welcomed their integration into the Youngevity Family of Brands.
"Youngevity's long history as one of the leaders in nutritional products along with the company's opportunity for growth resonated well with our leadership groups across Asia. It is already apparent that this partnership has made BellaVita and Youngevity infinitely stronger and better positioned to execute our Asia expansion."
Youngevity launched an exciting new product branded Te`Vita. Te`Vita is 100% organic, handpicked, whole olive-leaf tea from Abruzzo, Italy. Abruzzo is considered the "green heart" of Italy.
Youngevity CEO Steve Wallach Said,
"Now that we have fully staffed offices across Asia and inventory moving into all our markets we anticipate strong and sustainable growth in the Philippines, Malaysia, Indonesia, Japan, Taiwan, Hong Kong, and Singapore."
Protected and nourished by the Apennine Mountains to the West and the Adriatic coastline to the East, Abruzzo has been known to be one of the most pure and pristine agricultural regions in all the Mediterranean. The product was very well received by all in attendance with shipments of the product beginning immediately.
About Youngevity International, Inc.
Youngevity International, Inc. (OTCQX: YGYID), is a leading omni-direct lifestyle company — offering a hybrid of the direct selling business model, that also offers e-commerce and the power of social selling. Assembling a virtual Main Street of products and services under one corporate entity, Youngevity offers proven products from the six top-selling retail categories: health/nutrition, home/family, food/beverage (including coffee), spa/beauty, apparel/jewelry, as well as innovative services.
The Company was formed during the summer 2011 merger of Youngevity Essential Life Sciences with Javalution® Coffee Company (now part of the company's food and beverage division).
The resulting company became Youngevity International, Inc. in July 2013. For investor information, please visit YGYI.com. For general information on products and services, please visit us at youngevity.com. Keep up with our activities by liking us on Facebook and following us on Twitter.