Youngevity Takes Top Honor At Telly Awards For Betterment Video
June 28, 2017
By Team Business For Home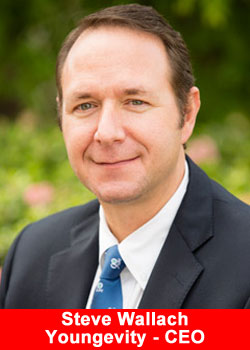 Youngevity International, Inc. (NASDAQ: YGYI), a leading omni-direct lifestyle company, today announced that the Company has been recognized by the 38th Annual Telly Awards with its top honor — a Silver People's Choice Telly Award — for its "Betterment" video.
This latest honor marks the Company's 12th Telly Award this season — during the first year of entry for Youngevity. The People's Telly Award is voted on among the community — industry leaders, producers, and enthusiasts from around the world. Being named a People's Telly winner offers recognition from respected peers, experts and a global audience of individuals.
The Telly Awards is an international premier award honoring outstanding local, regional and cable TV commercials and programs, as well as the finest video and film productions and online commercials, videos and films. Winners represent the best work of the most respected advertising agencies, production companies, television stations, cable operators and corporate video departments in the world. This year's Silver Award winners included in various categories: Disney, Coca-Cola, New York Life Insurance, and NASA.
"It is gratifying and rewarding to be recognized with a People's Choice Silver Telly Award for a video that embodies what our company is about — the idea of products, services and lifestyles that aim to make each day a little bit better than the day before,"
stated Steve Wallach, CEO and Co-Founder of Youngevity. "Since our founding 20 years ago, this idea of 'betterment' continues to guide our corporate culture and our expanding product lines and services — designed to help improve and 'better' daily living."
"We are extraordinarily proud of our entire team — distributors and staff — for capturing the essence of Youngevity in the 'Betterment' video,"
stated Dave Briskie, President and CFO of Youngevity. "At the same time, we are honored that the judging panel felt that our corporate values as defined in the video and the caliber of the video production itself merited top honors.
It is humbling to receive this award alongside of other current Silver Award recipients such as Comcast, FedEx, the Mayo Clinic, Fidelity Investments, and KPMG. This award serves as a tribute to the integrity and dedication of our workforce."
This year, the Telly Awards received over 12,000 entries from the U.S. and 5 continents. The entries were judged by a prestigious panel of 600+ accomplished industry professionals, each a past winner of a Silver Telly and a member of The Silver Telly Council. The judges rated each submission on a standard of excellence scale. The People's Telly Award is a competitive award and voted on among the international community — from industry peers to passionate viewers.
Youngevity was founded upon the pioneering principles of Dr. Joel Wallach; always looking forward to the betterment of society. Today Youngevity seeks to continue to meet this mission with groundbreaking products, innovative services and a fulfilling business opportunity individually defined through flexibility and personal lifestyle choices.
To learn more about Youngevity please visit www.youngevity.com.
About Youngevity International, Inc.
Youngevity International, Inc. (NASDAQ: YGYI), is a leading omni-direct lifestyle company — offering a hybrid of the direct selling business model, that also offers e-commerce and the power of social selling. Assembling a virtual Main Street of products and services under one corporate entity, Youngevity offers products from the six top selling retail categories: health/nutrition, home/family, food/beverage (including coffee), spa/beauty, apparel/jewelry, as well as innovative services. The Company was formed in the course of the summer 2011 merger of Youngevity Essential Life Sciences with Javalution® Coffee Company (now part of the company's food and beverage division). The resulting company became Youngevity International, Inc. in July 2013. For investor information, please visit YGYI.com. Be sure to like us on Facebook and follow us on Twitter.