Amway Co-CEO Steve Van Andel Announces His Retirement
July 14, 2017
By Team Business For Home International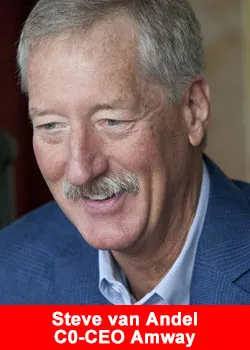 Steve Van Andel, the co-chief executive officer of direct sales giant Amway Corp., plans to retire at the end of 2018.
The early announcement is intended to give the Ada-based company time to figure out who will take over his role as co-CEO, a position he shares with Doug DeVos. Van Andel plans to remain as chairman of the board while stepping away from day-to-day duties. Doug DeVos serves as company president.
"My goal is to stay engaged," Van Andel told MLive/The Grand Rapids Press.
"I love the Amway business. I love being part of it. I love what Amway does and what Amway stands for."
Van Andel has worked for Amway for 45 years and has served as co-chief executive since 1995, when he succeeded his late father, Jay, who co-founded the company with Rich DeVos, father of Doug DeVos.
"Both our dads told us don't ever forget two heads are better than one and that probably helped out our partnership," Steve Van Andel said.
He said a decision hasn't been made if one of his siblings Nan, David or Barb, or even if someone outside the family would take over the co-CEO responsibilities. David Van Andel is founder and CEO of the Van Andel Institute in downtown Grand Rapids.
"Will there be something else? Who knows," Steve Van Andel said. "I haven't really thought that far ahead yet to figure out if just time with my family is enough or if there needs to be something else. We've got a year and half before I think about what is next."
Van Andel said he looks forward to spending more time with his new family.
"I have been given a chance at having a family that I never thought possible," Van Andel wrote in a July 12 letter to employees and distributors.
"Family is a true blessing, and I have come to realize the importance of spending more time with them."
Two years ago, the widower remarried and became a father. Van Andel said he has found happiness with his new wife Amy, a former hospice nurse, and her 10-year-old son and 16-year-old daughter.
Van Andel was 5 when Jay Van Andel and Rich DeVos launched the business from their basements in 1959 selling organic cleaner. They are credited with introducing the multi-level marketing model to the masses. MLM rewards distributors for their sales and the sales of distributors they recruit and train.
The company has grown into the world's largest direct sales giant doing business in more than 100 countries and territories.
Amway sells Nutrilite health supplements, Artistry cosmetics, homecare products like soaps, durable products such as individual water and air treatment systems through more than 3 million distributors. Last year, the privately held company reported annual sales of $8.8 billion.
The company has a global workforce of more than 19,000, including 4,000 employees at its massive headquarters and manufacturing complex on Fulton Street in Ada.Amway and its founding families have been a major philanthropic force in West Michigan, donating millions for buildings that bear their names from the Van Andel Arena to Spectrum Health's Helen DeVos Children's Hospital.
Steve Van Andel, through his foundation, has made major donations to educational groups from UPrep, a Grand Rapids Public Schools' charter school to his alma mater Hillsdale College. He is a longtime supporter of the Metro Health Hospital.
Of the two families, the Van Andels have traditionally kept a lower profile than the DeVoses. That seems to reflect the personalities of the founders. Rich DeVos often described himself as Mr. Outsider as his best friend Jay Van Andel as Mr. Insider, working behind the scenes. The charismatic Rich DeVos was at ease on the stage speaking to thousands without notes, while Jay Van Andel preferred scripted appearances.
Van Andel, tall and reserved like his dad, said he inherited his father's love of people. One of the most rewarding aspects of his job is spending time with Amway distributors and hearing their stories of success.
"I'm probably much more inclined to sit across the table from someone and talk to them than I am to stand on stage and talk to them but that's my personality," Van Andel said.
When asked to share a highlight of his career, he talked of traveling with his dad to China in the early 1970s when he was in his teens. They spent time walking around Shanghai and Beijing so the elder Van Andel could observe people.
He remembers his dad telling him he was curious about where the Amway business can go in the future.
"I'll never forget being with him and talking with him about it and then 20 years later, I remember cutting the ribbon and opening up China," Van Andel said.
China is now Amway's biggest market, generating more than one-third of its sales.