Direct Selling Industry Present For USA Government
July 21, 2017
By Team Business For Home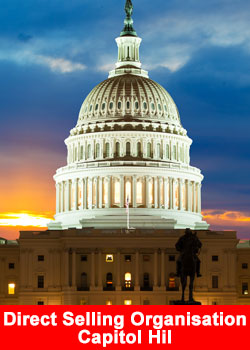 On July 19, DSA's Diversity and Empowerment Council hosted a briefing: "Direct Selling: Providing Growth and Opportunity for Hispanic Americans" on Capitol Hill.
The event featured direct selling company executives and an independent distributor, who discussed the significant impact of Hispanics on direct selling and how the business keeps evolving due to what is the fastest growing demographic in the United States.
DSA Executive Vice President Adolfo Franco opened the event with an overview of direct selling, the role of DSA, and the positive impact direct selling has on Hispanic consumers and salespeople.
Theresa Flores, Manager, Public Affairs, Mary Kay introduced the event's panel and reinforced the strength of Hispanic representation in direct selling. Recent DSA research figures show that of the 20.5 million people involved in direct selling in 2016 as buyers, sellers, or both, some 22% are of Hispanic ethnicity. Hispanic American buying power is $1.7 trillion.
Beatriz Aguirre-Gutai, VP of Sales & Field Development for Shaklee, described how Latinos constitute the youngest and fastest growing ethnic group in the United States. She also touched on how direct selling affords first generation Hispanics the opportunity to develop skills and become assimilated into the country, and how new technologies have made communicating easier among Hispanics.
Victoria Vilbrandt, VP of Marketing Strategies & Solutions for Princess House, spoke of the varied motivations salespeople have for becoming involved with direct selling. She said that 80% of Princess House independent consultants are Hispanic and highlighted the positive stories of Hispanic distributors who have found direct selling to be a path to education and a means of providing for their families.
"Direct selling enables them to perhaps stay home with their kids while earning, or be able to supplement their husband's income, or provide the self-empowerment they couldn't find elsewhere." Rep. Tony Cardenas (D-CA) and panel discuss what direct selling means for Hispanic American entrepreneurs and consumers.
Alfredo Bala, CEO and President of Mannatech, described how the cultural qualities of Latinos are congruent with direct selling. "Latinos are social people, whether through gatherings or cooking at home with the family," he said. "With direct selling, Latinos now can leverage this social attitude with technology into an effective business tool. I see parents and children selling together — it's heartwarming, and it's the American Dream; working hard, breaking the glass ceiling, and building opportunity."
Johanna Gil-Bala, an independent business owner with Mannatech, told how she went from being homeless and not being able to speak English to becoming the top Latina distributor at Mannatech. "I used the product for a few years and then realized the potential for a business opportunity. I joined to make a little extra money, and now I have a business spanning 17 countries!" She was keen to stress, however, that her success is not every seller's story and has come from a great deal of hard work. "I look upon direct selling as my profession, and that is what I encourage my team — be professional."
Special guest Rep. Tony Cardenas (D-CA) concurred that, for Latinos, direct selling can be the American Dream — but direct selling is also the Human Dream. "It's about working hard and creating opportunity for others. But I know what it's like for the contractor to be the last one paid, or the only one not paid. I know what it's like when the money is not coming in but the bills still are. This is the perspective I bring to the Hill. Direct sellers know this reality, too."
The event closed with questions from attendees. Of interest was the inherent one-to-one nature of direct selling and how that resonates with Hispanics. Beatriz Aguirre-Gutai reinforced how Hispanics are social, but also that they are brand loyal, and word of mouth is key. "When my family tells me about a product, I believe it and I purchase it."
This event was livestreamed on DSA's Facebook page. For more information on this event and future briefings, please contact DSA's Attorney & Government Relations Manager Brian Bennett at [email protected].