LifeVantage Announces Plans For Expansion Into Germany
July 13, 2017
By Team Business For Home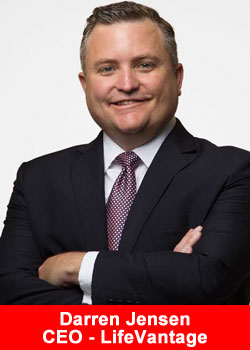 LifeVantage Corporation (Nasdaq:LFVN),  – a Triple A Rated Opportunity by Business For Home – recently hosted an exclusive event for thousands of distributors, business leaders and entrepreneurs in Denver, Colorado.
The 3-day Elite Academy featured significant corporate announcements, professional development training from more than 25 business experts and was headlined by New York Times best-selling author, Dr. John C. Maxwell.
Dr. Maxwell has partnered with the Company to create a custom leadership course based on his book, The 15 Invaluable Laws of Growth to teach entrepreneurs the necessary skills to succeed in today's world. Dr. Maxwell's next LifeVantage seminar will take place during the company's Elite Academy in Orlando, FL in November 2017.
"Elite Academy is one of my favorite events and Denver exceeded all expectations," said LifeVantage President and Chief Executive Officer, Darren Jensen.
"In addition to delivering valuable professional and personal development training, EA is an immensely powerful vehicle for helping the company succeed in our mission of biohacking the aging code and to activate the lives of millions of people."
The Company officially announced plans for expansion into Germany and has planned a pre-launch date for Germany of September 1, 2017.
The pre-launch will give customers a chance to purchase products or sign-up as a distributor prior to the official launch on January 20, 2018. "Germany is one of the top five direct selling markets in the world," said Senior VP of International, Courtland Pearson.
"It will be a very important and strategic market for us with respect to the success of our global expansion efforts."
The Company also introduced its flagship product, Protandim® Nrf2 Synergizer to the Mexico market this week. "The successful registration of Protandim® Nrf2 in Mexico is very exciting and we expect a strong response now that it's officially available," continued Mr. Jensen.
LifeVantage unveiled its new luxury skincare product, TrueScience® Hand Cream. Featuring premium naturally-derived ingredients and Nrf2 synergizers, the event quickly sold out its available supply.
Updates on TrueScience® and product availability can be found on the Company's website, www.lifevantage.com/truescience.
About LifeVantage Corporation
LifeVantage Corporation is a science-based health, wellness and anti-aging company dedicated to helping people transform themselves internally and externally at a cellular level.
Their scientifically-validated product line includes Protandim® Nrf2 and NRF1 Synergizers, TrueScience® Anti-Aging Skin Care Regimen, Petandim®, AXIO® Smart Energy and the PhysIQ™ Smart Weight Management System. LifeVantage (Nasdaq:LFVN) was founded in 2003 and is headquartered in Salt Lake City, Utah. For more information, visit www.lifevantage.com.