Nerium International Hosts World Conference In St. Louis
July 20, 2017
By Team Business For Home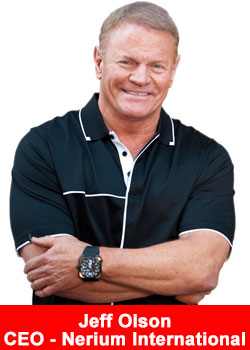 This month, Dallas-based Nerium International will convene in St. Louis for its global Get Real conference to celebrate the anti-aging skincare and wellness company's expanding worldwide presence, and to provide training to Independent Brand Partners from across the globe including U.S., Canada, Mexico, South Korea, Japan, Australia, New Zealand, Hong Kong, and Colombia.
Nerium International was founded on August 29, 2011 by veteran relationship marketing entrepreneur Jeff Olson.
Nerium International has made an impact in the direct selling industry since the company opened its doors in Addison, Texas. The company's exponential growth over a short, six-year period is attributed to Nerium International's strategic development of science-based anti-aging products, its innovative entrepreneurship model, and a focus on nurturing professional and personal development of its Independent Brand Partners, positioning.
Nerium International as a leading force in the competitive skincare and wellness industries.
Get Real St. Louis 2017 runs from July 20 to 22, as Nerium Independent Brand Partners from across North America, Asia-Pacific and Latin America come together to join the company's leadership team, and gather with peers to seize Nerium's vision.
Independent Brand Partners who represent Nerium International's anti-aging skincare line and wellness supplements will experience three inspiring days of back-to-back presentations, from intensive product training to scientific education, personal development to motivational coaching, sales recognition ceremonies to the exciting "white party" finale where everyone celebrates wearing white attire.
"Our three-day conference in St. Louis represents one of the city's largest conferences based on attendance, economic impact, and hotel room nights,"
said Chief Marketing Officer Amber Olson Rourke. Last year's Get Real St. Louis event generated an estimated $8.83 million in direct spending for total business sales.
While the conference is known for recognizing and motivating its Independent Brand Partners, it also serves as a philanthropic springboard to expand the Nerium Ripple Foundation in support of Big Brothers Big Sisters of America and World Vision.
"Nerium is proud to be the leading national sponsor of BBBSA, and our Brand Partners love to generously support its youth mentoring programs with their financial contributions. This year, BBBSA President Pam Iorio will speak on stage and attendees will be truly inspired. We have raised more than $4.5 million for our Nerium Ripple initiatives over the past five years and Nerium International conference events are a big part of our overall fundraising efforts. Our goal is to raise $100,000 at this event," said CMO Amber Olson Rourke.
BBBS is the U.S., Canada, and Australia philanthropic initiative, while Nerium also supports the mission of World Vision International in select countries where business is conducted. The Nerium culture is rooted in a philosophy of loving, caring and sharing — a positive philosophy planted in the corporate culture by Founder and Chief Executive Officer Jeff Olson.
"The DNA of our Nerium culture is about fostering positive attitudes and actions. We are passionate about giving back to the community and mentoring young people to grow and reach their potential.

Nerium is wholeheartedly committed to serving the mission of both Big Brothers Big Sisters and World Vision International,"
said Olson.
Nerium International's Get Real St. Louis 2017 summer conference promises to be the most motivating and educational event ever for our Independent Brand Partners. "Get Real St. Louis 2017 is the culmination of thousands of people working together as a team toward a shared vision. It's about fostering entrepreneurship, personal growth, and professional development in an atmosphere of high energy and winning positivity," said Olson.
About Nerium International
Based in Addison, TX, Nerium International is a global relationship marketing company with age-fighting products crafted from cutting-edge research and science. Founded in 2011, Nerium International has shattered industry sales records while developing a strong customer base in North American, Latin American and Asia-Pacific markets. This unprecedented success has allowed Nerium International to generate $1.5 billion in cumulative sales after just five years.
Nerium International was recognized for its historic growth by ranking No.1 on the 2015 Inc. 500 List of fastest-growing private U.S. companies in consumer products and services and No. 12 in overall, as well as No. 38 on the 2016 Direct Selling News' Global 100 List.
Led by an executive leadership team with vast domestic and international experience, Nerium International is committed to providing an excellent product line based in real science and providing its Independent Brand Partners with a life-changing and outstanding business opportunity through relationship marketing. For more information, please visit: www.nerium.com.