Origami Owl Co-Founder Chrissy Weems Named CEO
July 13, 2017
By Nicole Dunkley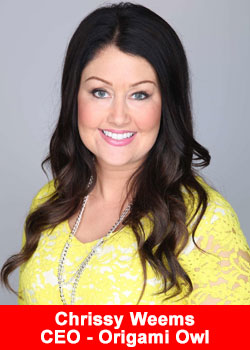 In 2010, Chrissy Weems and her then 14-year-old daughter, Bella Weems-Lambert, started the company as a way for Bella to buy a car once she turned 16. It has since become a global social selling company with over 45,000 independent business entrepreneurs, referred to as Designers.
In the new leadership position, Chrissy has big plans to lead with heart, while continuing to live the mission of Origami Owl: to love, inspire and motivate people of all ages to reach their dreams and empower them to make a difference in the lives of others.
"I'm committed to getting back to the basics of what made this company so successful—people first, creating a ripple effect of good, leading with intention, connecting people in meaningful ways," Chrissy said. "In addition, we believe the youth are our future, and we are committed to giving them the tools they need to be successful."
She said that the Origami Owl Owlette Program, which holds a special place in Bella's heart, will move to the forefront once again. This program provides a unique opportunity for youth, ages 11–17, to work alongside their parent who is an Origami Owl Designer.
Bella leads the Origami Owl youth leadership program, which inspires girls to be strong leaders within their peer groups and schools, and teaches them finance, how to run their own businesses, be confident and successful, and realize that, like Bella, they can reach their dreams.
Origami Owl's flagship line of meaningful jewelry includes signature Living Lockets®, which can be customized with Charms to tell a personal, meaningful story. With the 2016 acquisition of the willa teen skincare company, Origami Owl added a new product category and became a "family of brands."
The company's philanthropic venture, Force for Good™ donated $1.15 million to charitable causes in 2016. Willing Beauty's social focus, the Willing Heart Project, will raise money to support single mothers struggling to care for their families.
About Origami Owl
Origami Owl® Custom Jewelry was founded in 2010 by Chrissy and Bella Weems.  Fast forward seven years and Origami Owl, a national social selling company and Inc. Hire Power Award recipient, is fulfilling its mission to be a force for good; to love, inspire and motivate people of all ages to reach their dreams and empower them to make a difference in the lives of others.
Based in Chandler, Arizona, Origami Owl boasts over 300 employees and more than 40,000 independent sales consultants, referred to as Designers, in the U.S. and Canada. Origami Owl Designers tell stories and sell this unique line of jewelry at in-home parties called Jewelry Bars®. For more information or to find a Designer in your area, visit OrigamiOwl.com.