Starbit International Growth Increases Through Crypto Currency Parties
July 21, 2017
By Team Business For Home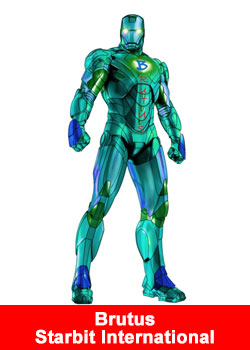 Starbit International has recently launched a new revolutionary Blockchain project, which allows ordinary people to access knowledge in the world of Blockchain and crypto currencies, through a theoretical and practical course that also includes an innovative automatic software able to work with multiple platforms and any alt-coin on the market.
Brutus, is opening a new path for this industry: The software called "Brutus" launched by the company in may 2017 is providing outstanding results in sales volumes increase for Starbit promoters.
Starbit launched the concept of making crypto currency parties just 2 weeks ago and sales volumes are increasing day by day around the world.
"This idea come from our past experience in network marketing and direct sales" says Luana Sicari, CSO of Starbit.
"Starbit has a Mission: to bring knowledge and consciousness about Blockchain opportunity, to normal people. Brutus is the "icing on the cake" for this mission. How can you bring an opportunity like this among people, if not making everyone happy and enthusiastic to use it?
Our Marketing & Innovation Director, Riccardo Vieri, had this brilliant idea of making parties, where people can have fun, understand and have a simple overview of the blockchain and crypto currencies industry in just 20 minutes explanations, and then just sit in front of a pc and with the help of their guest, the promoter who invited him or her, just use one of the strategies available, the manual arbitrage, to start making some little operations.
When anyone see a green line with "WON", can you imagine what happens? The enthusiasm and the stories and testimonials of people that were completely unaware of this opportunity, and today are satisfied with their results, this is worth of everything. When you help other  to find a better way, you are on the right path to win."
Introduced on the market as the technical practice of Starbit blockchain package, Brutus is going to become a super product that together with Starbit Digest, a weekly magazine, will have a terrific impact in the alt-coins market.
Brutus works with special algorithms and contains the newest 5 strategies available on the market, including one smart arbitrage that allows users to learn and do trades instantly on more exchanges with several coins with just one click and grant to grab the opportunities available on the market in some window's time.
In the idea of Starbit management, Brutus will be the superhero "normal" people will love: those who still don't know the blockchain and are not experts.
"Brutus is good with good people and is bad with greedy ones",
so it's a new modern superhero that is ready to challenge this big growing market.
As revealed recently from the MIT, Massachusetts, the Crypto currency market is growing exponentially but the data suggests its market share will drop significantly in the next few years.
"When it comes to the future of money, there is a growing consensus that crypto currencies are set to play a major role".
In just 3 months Brutus had several improvements and upgrades: today it also contains a Video Tutorial section in English and Italian that anyone can watch to "learn by doing", and soon in other languages.
"What is going to happen by next autumn will change for ever the history of the company and its leaders" Riccardo Vieri says. "It's the best time to build an organization and a solid base of satisfied customers: when new services will be available in the next months we know exactly what is going to happe."
Starbit International uses a network marketing compensation plan that rewards its distributors promoting Blockchain Information Packs and its new digital services, with 10 different ways of earnings and one unique binary balanced system that thanks a special algorithm, rewards promoters on the double sales volumes generated by the weaker team and adds great benefits to all active promoters.
About Starbit International
Under the wise direction of a group of investors and technology partners, we can rely to a team of experts in various areas ready to support the community, with over twenty years experience in financial management, administration, sales and technological innovation. A professional staff is at your service.
We are committed to selecting everything needed for a person to be informed and about blockchain technologies and various applications, making it easier, in a progressive manner, accessible to all, thus saving time and resources to anyone interested in this area.
The goal is to offer various degrees of knowledge to those who are interested in playing an acting role, without the needing to become experts, like is happening today. Starbit also offers an opportunity to those who want to transform all this into a work from home opportunity.
Starbit uses a compensation plan that claims to be full compliance worldwide as there are no fees to subscribe, nothing to buy, and distributors are rewarded only from the sales of services. Starbits rewards distributors and accepts payments by customers exclusively in Bitcoin.
For more information visit www.starbit.com