Ted And Michelle Wilson Achieve Blue Diamond At Valentus
July 28, 2017
By Team Business For Home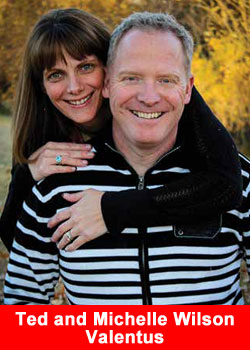 Being crowned Valentus' first Blue Diamond business is an honor and a personal responsibility that both Ted and Michelle Wilson take seriously.
The couple's organization now spans four continents in more than 70 countries, and recently surpassed 80,000 members.
At this point in their business career their focus isn't on amassing personal wealth; it's about helping other individuals and families achieve their personal goals.
"Step by step, week by week, we work with those that want to be worked with," Ted says.
"Actions speak louder than words and those who are truly committed to breaking the mold always rise to the top." As Michelle says
"Ted's mother had a saying that we've never forgotten," '" There's no magic in small dreams.'"
The Wilsons love that Valentus stands for integrity. "Integrity is everything to us," Ted says. "We don't ever make this business about any one person, instead we invite all to participate regardless of what organization they may be a part of." Valentus is now a global lifestyle movement, not merely a business opportunity.
As a Canadian industry leader, Ted was first introduced to the direct sales industry in 1989 by a college professor. After that fateful introduction, Ted embarked on learning everything he could about the power of leverage. Ted had already earned a formal education in kinesiology and nutrition, but he wanted to earn yet another "degree" — this time in network marketing.
He was determined to become an expert in the field and did so by working with different companies and devoting himself to the self-development opportunities readily available in the industry.
Twenty-eight years later, Ted, along with the help and unwavering support of his wife Michelle, has learned what works and what doesn't — and Valentus works.
The dynamic duo has risen to the top of several companies based on their decades of experience, but they have chosen Valentus to be their final home in the industry. Their relationship with Valentus CEO Dave Jordan and the consumable product line are two of the key factors that drew them to the company.
"One of the things that makes our opportunity unique is that we don't have to convince people to do something they aren't already doing," Ted says. The duo created and licenced the 12in24™ Lifestyle Plan to Valentus, and it has spawned a culture throughout Valentus. Ted explains it is simply about asking prospects and everyday people,
"How would you like to lose 12 pounds or 12 inches, or any combination thereof, safely within only 24 days?" 
Valentus products don't require the users to completely change their lives or form new habits to see results.
The idea that if you do what you love, you'll never "work" a day in your life is a true statement for Ted and Michelle. In fact, the couple often calls it net-fun marketing. The fun comes in engaging prospects, opening up conversations around the opportunity and helping people change their lives. This happens daily on three-way calls, on weekly conference calls and Skype/Zoom live feed events.
"Our system is web-based," Ted says.
"You can build on your phone, at home, on the golf course or at the stands of a baseball park and this is where you will find us all summer long actively being a part of our kids' lives,"
Michelle adds.
For more information about Ted and Michelle, their automated system or their leadership style that has created multiple 6-figure earners within their global organization, go to www.Ted2017.com