Travis And Summer Flaherty Achieved President Rank At World Global Network
July 18, 2017
By Team Business For Home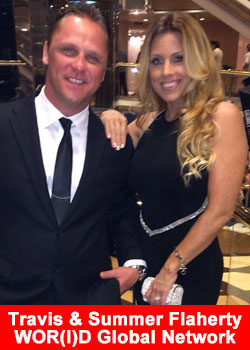 Travis and Summer Flaherty achieved the elite rank of "President" at WOR(l)D Global Network, a Triple A classified opportunity by Business For Home.
On average, a President generates 250,000 Sales Volume in a single commission period. For a full income disclosure, go to www.worldgn.com.
Travis states:
"In 2015 we stepped back from the industry after a series of ups and downs. We didn't realize it at the time, but we were both bitter, and our faith in the industry was wavering.
After a series of disappointments, we were struggling with our belief in the profession. I know many veterans in this industry have those moments where they think they are never going to do network marketing again.
We spent the next year pursing our passion of entrepreneur education. We built an online university and also launched an affiliate marketing company.
The interesting thing was that we found ourselves back in the very spot we had worked so hard to get out of when we first started in network marketing. We were stressed, had a ton of overhead, and our employees had no time."
Summer adds:
"Honestly, by the end of 2016, we felt confused and a bit lost. We had poured our hearts, souls, and a lot of capital into a business that just wasn't clicking the way we had expected. Travis and I were also beginning to miss many aspects of owning a network marketing business. We missed the relationships, the travel, the events, and especially the personal growth. We also felt like we had some unfinished business in this industry. Sometimes all you need is a little distance to see things more clearly."
Travis:
"In late 2016, we were feeling pretty lost and uncertain about which direction we should go in the coming year. Between Christmas and New Year's, we relied on our faith to guide us and spent quite a bit of time praying for direction.
I remember getting the distinct impression that success may not look like what I think it will and that we needed to be open to new opportunities that came our way. A few days later, our friend Mike Sims asked if we were open to looking at a new opportunity. (The Lord sure works in mysterious ways!)
Mike was absolutely right when he said, 'I am going to warn you up front, if you two look at this opportunity, it's going to mess with your head.' After a brief conversation, he sent us a two-minute video that immediately grabbed our attention. Seeing the two-minute video kicked off a two-week evaluation process before we officially got started in mid-February.
The more we learned about the company, the more excited we became. The tipping point for us was when I woke up around four a.m. because my mind was going crazy! I couldn't stop thinking about this incredible opportunity. I kept thinking about all the people this device could help. I immediately got out of bed and taped two large poster board sheets of paper to our kitchen window. On one of the papers, I began writing all of the names of the people in my phone or that I was connected to online or in other ways. On the other paper, I wrote the numbers '50' and '100' at the top of the page. Summer came out soon after and asked me if I was okay and asked why I was up so early. I told her I couldn't stop thinking about the Helo and I had to get started making my names list. She just smiled and said, 'I trust and believe in you, honey. If you feel this has reignited your passion for network marketing, I am all in, one hundred percent! You know that I always believe in you when you have that spark.' I then shared that the numbers '50' and '100' represented how many people I planned on sponsoring in the first fifty days and in the first one hundred days."
Summer:
"There is definitely something about making a decision to go all in, setting your intentions, and burning all those bridges of retreat. By day forty-four, we had sponsored our fiftieth person into the business. We didn't quite hit one hundred personals in our first one hundred days, but we did sponsor eighty-six! But that doesn't mean we won't sponsor our one hundred. In fact, we sponsored two more people this morning, and we are closing in on that goal. Sometimes you just have to adjust your time frames a little bit. But we always stay focused on the destination."
Travis:
"After evaluating the company for nearly two weeks, here is what we discovered:
Product Relevancy. There is no need to convince anyone they need this product. The wearable technology industry is one of the fastest growing trends inside the technology space today. We are attracting many people to our business who would have never joined any of our previous opportunities or even the MLM industry period. Most people just get it! Technology runs and rules the world. As a result, we are attracting people from all walks of life.
Zero Competition. One of my favorite books is 'Blue Ocean Strategy.' The book describes two different business environments. A 'Red Ocean' is a fiercely competitive market. Everyone is fighting over the same market share. The other is a 'Blue Ocean,' where there is literally no competition because you changed the game. You are the category creator, and there isn't anyone, anywhere in the world, that has what you are offering. WOR(l)D Global is a total blue ocean.
High Speed, Low Drag. We have spent the past decade hosting home parties in living rooms, hotel lobbies, and meeting rooms around the world. Not only can it burn you out, but it can also be very costly. We certainly don't mind traveling to support our teams, but we want to travel when we choose, where we choose, and with whom we choose. When we learned that the entire business is being built around a simple two-minute video, we got excited. We have sponsored close to one hundred people—all from the comfort of our home—without having one home party or hotel meetings.
Anyone that says timing doesn't matter in business doesn't understand business. A simple success formula we have always subscribed to is "figure out where people are going, and get there faster." We already know the technology growth trends in wearable devices are astronomical. To also be blessed with the opportunity to assist in launching a product of this magnitude in the North America market was a tremendous opportunity—we simply couldn't pass up.
Truly Global Opportunity. WOR(l)D Global Network is open in 195 Countries, with fifteen offices around the world. This is a one-world economy we live in. The world is a much smaller place than it used to be. They used to call it the seven degrees of separation, but they now say it's three degrees of separation because of social media. Although you may not know someone in China, Peru, or India, you know someone who knows someone. When you have an opportunity being built around a simple two-minute video that is going viral, it's incredible how quickly your business expands across borders. Our team has now grown to twelve different countries in the past four months. We are preparing to travel to Peru and Colombia to launch our business there in the next thirty to sixty days!
We would like to thank our sponsor and mentor Mike Sims for making this all possible. We are truly honored to call him a friend and business partner. We also want to recognize and thank our team for their tireless efforts and contributions. This Presidential rank doesn't just belong to Summer and me, it belongs to our entire team. We look forward to helping each of you achieve your goals and dreams. We look forward to developing one hundred new Diamonds and ten new Presidents in this organization over the next year!
Quote from Mike:
"When I first got started with WOR(l)D, I put together a short list of the type of people I wanted to work with. Travis and Summer were on that list. These two are at the top of their game right now. They are two of the best at driving culture and mentoring others to success. They have an incredible work ethic. I also respect their ability to lead out front and balance their family life at the same time. It has been a genuine pleasure working with these two superstars. I look forward to great things to come from this power couple."
About WOR(l)D GN
With headquarters in Miami, USA, WOR(l)D stands apart as a leader in the global markets of media, mobile, and wearable technologies. In the fifteen offices distributed among all the continents, WOR(l)D is employing the brightest minds and best professionals, constantly investing in great ideas and highly motivated people. Every WOR(l)D product reflects its passion for research, innovation, and environmental responsibility.
WOR(l)D is a recognized as a leading player in the drive towards a more economically stable, socially connected world. Leveraging a new business paradigm, WOR(l)D seeks to transcend every social and economic boundary.
Using innovative products and a proven, direct selling business model, WOR(l)D is helping people around the globe to transform their lives—and their livelihoods. For more information, please visit www.worldgn.com.