Ugunda Joins WorldVentures Global Travel And Lifestyle Club
July 24, 2017
By Team Business For Home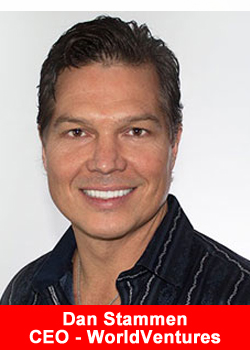 Kyle Lowe, the head of international expansions at WorldVentures, made the announcement recently at the Heartfelt Arena in Pretoria, South Africa. He was flanked by Africa General Manager Kemble Morgan.
Uganda has officially joined the list of countries hosting tourism and travel activities by WorldVentures, an American lifestyle and travel company operating in more than 30 countries worldwide.
"For the past year, you have heard WorldVentures executives say global expansion is a priority, and now countless hours of hard work have paid off. We are officially entering Uganda, Guam, Latvia and Jamaica," announced Lowe amid thunderous ululation.
The announcement was done during a three-day international training event attended by thousands of WorldVentures members and executives from all over the world.
The announcement means that Ugandans with entrepreneurial ambitions can join hundreds of thousands of Independent Representatives across the globe who are earning income by selling WorldVentures' flagship product — DreamTrips™ Memberships.
Additionally, DreamTrips members in Uganda can enjoy the curated group travel at competitive pricing and exclusive, local dining and entertainment experiences that are hallmarks of the DreamTrips brand
With the development, Uganda, which will host its launch celebrations in August in Kampala, becomes the fifth African country hosting WorldVentures operations, the others being South Africa, Zimbabwe, Botswana and Kenya. The company recently opened up regional offices in South Africa to serve the growing African market.
WorldVentures is the world's  largest direct seller of curated group travel, with independent representatives in more than 30 countries worldwide WorldVentures' premier membership product, DreamTrips, procures large sums of holiday packages and passes them onto its members at exclusive member-only rates.
WorldVenture's business model allows members to join the travel side or to be Independent Representatives or both and spend their time building their own business platforms and increasing their monthly revenue.
Further, the work of Independent Representatives was made easier with the recent launch of the DreamTrips app – designed for greater ease, functionality and efficiency. Members can log on through the app and book vacation packages.
The app allows users to browse and book vacations, upload and share trip photos, and exchange travels stories.
For Independent Representatives, the app has utility as a business tool for enrolling new members, and viewing training videos allowing them to conduct business from anywhere in the world.
"Our business model encourages entrepreneurship and provides alternate revenue generating opportunities for people. For some, it could lead to a new career in the travel industry," said Kyle Lowe, senior vice president of global sales and international expansion at the company.
Also, Ugandans will get to access some of the most exclusive vacation destinations locally and internationally at very subsidized prices due to WorldVentures' influence on prices through bulk purchases.
Ugandans have already expressed overwhelming interest in the travel and lifestyle club, with a considerable number of people already on board.
With the country being very tourist-savvy and spanning countless attractions, there is no doubt WorldVentures will have amazing options to offer its members worldwide and enjoy an adventurous stay in the country.
About WorldVentures
WorldVentures, LLC. is a privately held company based in Plano, Texas, that sells travel and leisure club memberships providing a diverse set of products and experiences. The company's goal is to help Independent Representatives, DreamTrips Members and employees achieve more fun, freedom and fulfillment in their lives. WorldVentures uses the direct sales model to go to market with active Representatives and members worldwide. For more info please visit www.worldventures.com