Youngevity Appoints Luke Taffuri As VP Of International Sales And Operations
July 26, 2017
By Team Business For Home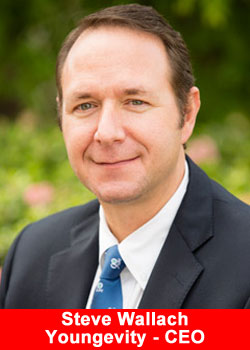 Youngevity International, Inc. (NASDAQ: YGYI), a leading omni-direct lifestyle company – a Triple A classified opportunity by Business For Home – , today announced the appointment of Luke Taffuri to its management team as VP of International Sales and Operations.
Mr. Taffuri brings more than 22 years of Direct Selling experience in various positions including Chief Operating Officer at Sorvana International, his prior company, which recently was acquired by Youngevity.
At Sorvana he developed and led a global expansion campaign that led to the successful opening of 26 international markets.
The VP of International Sales and Operations position was necessitated because of the growing list of countries in which Youngevity now operates. Recent acquisitions have increased geographic expansion and distribution into eight Asian markets while at the same time Youngevity continues to focus on growing its presence in Latin America and Eastern Europe.
Steve Wallach, Chairman and CEO of Youngevity, said,
"Our entire management team is very excited to announce the creation of the VP of International Sales and Operations role, and believe we found the perfect candidate in Luke Taffuri.
As we continue to transition into a global company, we believe Luke's experiences and industry relationships should optimize the international growth potential that exist in Youngevity today."
Dave Briskie, President and CFO of Youngevity, added,
"Early in our discussions we realized Luke shared a common vision with myself and Steve Wallach for the future of Youngevity as we execute our international plan. Mr. Taffuri's international and business development experience is timely and crucial for us as we continue to expand our global reach.
His past successes along with his leadership abilities, deep knowledge and understanding of the direct selling industry make Luke unquestionably and uniquely qualified for the role of International VP of Sales and Operations."
Mr. Taffuri said,
"I am impressed with what Youngevity has in place for their current international markets from an operational, technological, and product offering standpoint. I am most impressed, however, with the quality of the people and the culture that has been built throughout the organization.
They have a great foundation illustrated by their 20 year history which I believe will lead to more efficient and productive transitions in the international marketplace.
Initially I will focus on driving revenue growth across the global platform. As markets begin to scale I will set my sites on operational efficiencies and profitability."
About Youngevity International, Inc.
Youngevity International, Inc. (NASDAQ: YGYI), is a leading omni-direct lifestyle company — offering a hybrid of the direct selling business model, that also offers e-commerce and the power of social selling. Assembling a virtual Main Street of products and services under one corporate entity, Youngevity offers products from the six top selling retail categories: health/nutrition, home/family, food/beverage (including coffee), spa/beauty, apparel/jewelry, as well as innovative services.
The Company was formed in the course of the summer 2011 merger of Youngevity Essential Life Sciences with Javalution® Coffee Company (now part of the company's food and beverage division). The resulting company became Youngevity International, Inc. in July 2013. For investor information, please visit YGYI.com. Be sure to like us on Facebook and follow us on Twitter.