Zija's Newest Product Advisory Council Member: Shelly Maguire
July 3, 2017
By Nicole Dunkley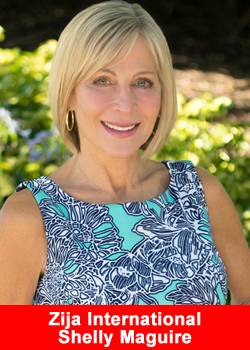 Zija International, an international health and wellness leader in the network marketing industry, recently announced their newest Zija Product Advisory Council member, Shelly Maguire.
As a long-standing skin care and beauty expert, Shelly will contribute largely to the company's GenM Personal Care line. The product line features skin care, hair care, and beauty care products, and is always expanding to feature the most cutting-edge, natural products.
Shelly brings decades of experience in the industry and has developed and brought to market over 50 anti-aging skin care products since 2001. Shelly's career as a regular presenter on Home Shopping Network (HSN) Live TV, Live TV Worldwide, infomercials, as well as her accomplishments as a radio show host and published author, has led to her recognition as a skin care industry leader.
During her career, her other entrepreneurial endeavors include founding and running a chain of high-end beauty spas with over 125 employees and creating an accredited continuing education program for massage therapists and estheticians.
Diagnosed at the age of 12 with the incurable disease Cystic Fibrosis, and given a life expectancy of 18 years, Shelly became interested in health and wellness to help combat her disease as well as her own skin challenges. She has used her own life experiences to inspire, motivate and help women and men worldwide. Her passion to help others and interact with them personally, has led her to the direct sales industry.
ABOUT ZIJA INTERNATIONAL
Zija International, a privately held and privately-funded business founded by Kenneth E. Brailsford and led by President and CEO, Ryan Palmer, develops natural health, wellness, and beauty products. The company operates in more than 50 countries worldwide, pioneering the #NaturalHealthRevolution to help individuals achieve Life Unlimited.
Zija has seen consistent growth every year since it was founded over a decade and has received several awards, including and being named the "Fastest-Growing Company in Utah" by Utah Business Magazine. It has also been recognized on fastest-growing and top-revenue lists by Inc. Magazine, Direct Selling News and Utah Valley Magazine, and has received industry-specific MarComm, American Business (Stevies), and Davey Awards.