Corbin and Holly Roush Achieve Black Diamond Ambassadors Rank At Vasayo
August 3, 2017
By Team Business For Home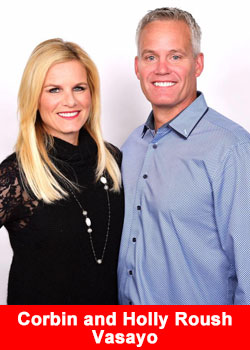 Corbin and Holly Roush have pioneered a new rank in Vasayo. They are the first to reach the prestigious rank of Black Diamond Ambassador.
In addition to the many perks they have accumulated in their Vasayo journey — including a $100,000 Black Diamond Rank Advancement Bonus — they will now have the opportunity to go on Black Diamond Discovery, the highest-level group retreat with company Founders and top executives a Vasayo Brand Partner can achieve.
Corbin and Holly stated:
"We knew when we partnered with Dallin Larsen and Vasayo that this company would be exceptional in every way.
Going Black Diamond is a representation of all our friends we were able to help reach their goals. If you help enough people get what they want, you will also get what you want." They attributed their early success to persistent, consistent action, and have no plans to stop being diligent in their efforts to grow and develop their team.
We followed the Vasayo Action Plan.
We fostered relationships.
We picked up the phone and called prospects, every day.
We didn't take "no" for an answer.
We worked on our relationship and contacting skills.
We built a list and kept adding to it.
We were and are passionate about and confident in the Vasayo products and opportunity.
We showed the plan.
This business is about people, so then we asked the Roushes: Who have you met for the first time (that you didn't know before) through Vasayo that makes you smile? Why?
"Ricky and Francoise Untermeyer. They are a young couple and fairly new to the industry. I see a lot of us in them when we first started out almost 11 years ago. They have that spark, energy, and burning passion to help others in all areas of life. Talking to them is always a blessing and always lifts us up!"
About Vasayo
Vasayo is a new direct sales company based in Lehi, Utah. The company announced its soft-launch on January 3, 2017, bringing to market five nutritional products under the MicroLife brand name. Each product features the company's proprietary Advanced (liposome) Delivery Technology for superior nutrient absorption.
For more information on Vasayo — the company that is Delivering Solutions — visit vasayo.com.