Herbalife Q2 Revenue Down 5% To $1.1 Billion
August 2, 2017
By Team Business For Home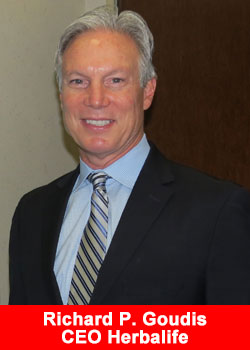 Herbalife Ltd. (NYSE: HLF) reports results for the second quarter ended June 30, 2017.
Rich Goudis, CEO of Herbalife, stated, "With the successful implementation of tracking consumer retail transactions in the U.S., we are now entering into a new chapter for the company. Through technology innovations, and changes in our marketing plan here in the U.S., we are now collecting millions of customer receipts each month, and we know this will help our distributors create more compelling connections with their customers everywhere and anytime."
Mr. Goudis continued,
"With much of the transition behind us, we can now pivot back to an acute focus on growth."
For the second quarter 2017, the company reported net sales of $1.1 billion which represents a decline of 5% and 3% on an as reported and constant currency basis, respectively, compared to the second quarter 2016.
Second quarter volume points of 1.4 billion declined 8%, compared to the prior year period.
On a reported basis, second quarter 2017 net income was $137.6 million, or $1.61 per diluted share, compared to a second quarter 2016 net loss of $22.92 million, or ($0.282) per diluted share.
Adjusted1 earnings for the second quarter was $1.51 per diluted share compared to $1.29 per adjusted3 diluted share for the second quarter of 2016.
For the full year 2017, the company is raising its 2017 reported and adjusted diluted EPS guidance to a range of $3.80 to $4.20 and $4.30 to $4.70, respectively; up from the previous ranges of $3.30 to $3.70 and $4.10 to $4.50, respectively.
To support the Company's increased focus on the worldwide distributor and customer experience, including the key areas of innovation and technology and the infrastructure needed to support them, Dave Pezzullo has been promoted to chief operating officer (COO).
Pezzullo joined Herbalife in 2004, initially serving as the Company's Senior Vice President and Chief Accounting Officer and most recently as Executive Vice President of Worldwide Operations. He was instrumental in creating world-class organizations in both finance and operations and led the successful implementation of the "seed to feed" program which has created a competitive advantage for the Company.
"Dave and I have a long history and have accomplished major milestones together at Herbalife including the establishment of world-class manufacturing facilities, laboratories and quality control infrastructure, sophisticated supply chain systems, and R&D centers worldwide that have set the standard in our industry for product quality," said Goudis.
"Dave is a proven leader and shares my vision and passion for innovation, and I couldn't be more pleased to have him on our leadership team in his new role as COO."
About Herbalife Ltd.
Herbalife is a global nutrition company that has been changing people's lives with great products since 1980. Our nutrition, weight-management, energy and fitness and personal care products are available exclusively to and through dedicated Herbalife Independent Members in more than 90 countries. We are committed to fighting the worldwide problems of poor nutrition and obesity by offering high-quality products, one-on-one coaching with an Herbalife Member and a community that inspires customers to live a healthy, active life.
We support the Herbalife Family Foundation (HFF) and its Casa Herbalife programs to help bring good nutrition to children in need. We also sponsor more than 190 world-class athletes, teams and events around the globe, including Cristiano Ronaldo, the LA Galaxy and champions in many other sports.
The company has over 8,000 employees worldwide, and its shares are traded on the New York Stock Exchange (NYSE: HLF) with net sales of approximately $4.5 billion in 2016. To learn more, visit Herbalife.com or IAmHerbalife.com.