How Avon's CEO Failed To Fix The Company
August 8, 2017
By Team Business For Home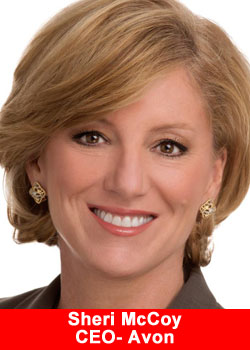 Online business magazine Fortune.com has published the next article about Avon:
When beauty giant Coty (coty, +1.67%) made an unsolicited $10.7 billion for Avon Products (avp, +3.14%) in April 2012, the direct seller's board was adamant shareholders would be better off letting incoming CEO Sheri McCoy fix a very damaged company. It proved to be one of the biggest blunders in M&A history.
Fast forward five years, Avon's stock market value is down to $1.3 billion and McCoy is on her way out in March, having failed to improve the company by almost any measure. The number of sales representatives, iconically known as 'Avon Ladies', has shrunk in all but one of the years of her rein and the declines have continued into 2015.
Avon has racked up about $1.8 billion in losses and last year sold off its North American business to private equity firm Cerberus, a huge blow for a company founded in 1886 in New York when a door-to-door bookseller found that the perfumes he mixed himself were popular with his customers.
Ultimately, McCoy was trying to fix an unimaginable mess at a company with operations all over the world, and proved slow to react to market changes such as the impact of e-commerce and changing demographics.
The company seemed to be in perpetual turnaround-restructuring mode from which investors had clearly tired since McCoy's predecessor, Andrea Jung, had herself undertaken a number of reorganizations of the once-iconic company with little to show for it.
McCoy, a 30-year veteran of Johnson & Johnson (jnj, -0.24%) before Avon, enjoyed a few successes early on, including exiting a few markets. But ultimately the company faced unhappy shareholders, activist investors Barington Capital Group LP and partner NuOrion Partners AG, who were unrelenting for three years in criticizing Avon's umpteenth turnaround plan. And who can blame them: with sales and the number of representatives falling, it's clear McCoy's efforts have never managed to stem decline let alone set Avon up for a future.
To be fair, many of Avon's problems can be traced back to Jung's mistakes: there was a federal bribery probe that cost Avon $500 million and distracted management for years, stemming from overseas expansion efforts and deprived Avon of any viable China business. On Jung's watch, North America was bleeding sales and lost half of its sales reps between 2007 and 2012. And Avon had confused customers and reps by going into all sorts of categories it wasn't known for. Still, it seems the only thing McCoy has had to offer has been cost-cutting initiatives.
Let's take a closer at a few of Avon's major mistakes on McCoy's watch:
1. Ranks of Avon Ladies have gotten thinner
Avon had already been grappling with a shrinking salesforce for years, a devastating trend for a direct-selling company. The maker of Skin So Soft had a complicated commission structure that made it harder to earn as much at a given sales level compared to other direct-selling company. McCoy addressed that, but the Avon Ladies have kept leaving. It's particularly tough in markets like Brazil where reps often sell for Avon's local rivals too.
2. Slow on tech
Avon only got around to launching a serious e-commerce site in 2014, unveiling a solid functional web with videos and easier tools for tracking sales. But the effort was underwhelming compared to state-of-the-art site by much hotter brands like Sephora. What's more, emerging beauty behemoths like Ulta Beauty (ulta, -0.56%) also have top caliber sights along with loyalty. And there were digital-first upstarts like Birchbox that drew the younger customers Avon has failed to win. In 2013, Avon pulled the plug on a $125 million software upgrade that had created chaos for sales reps and the company always seemed to be struggling to fix its basic systems.
3. Slow to realize the U.S. was a lost cause
For years, Wall Street had been pushing McCoy to at least consider exiting the U.S. or consider lining up a retail partner in recognition of how direct selling of beauty products in the U.S. was dwindling and franky, a passé business model, and focus on markets with a future, namely Brazil and Mexico. But she kept saying the U.S. market was fixable and too important to the soul of the country. But Avon threw good money after bad trying to salvage its home market, all for naught.
4. Late to the Hispanic market
Though Hispanics have long made up a sizable part of the U.S. population and are proportionally big spenders on beauty, Avon was late to discover that segment. It was only in 2014 that Avon created marketing materials made specifically for its Hispanic reps, who sold far more products than non-Hispanics on a per capita basis.